Behind a 38-point triple-double from LeBron James, the Los Angeles Lakers dispatched the Denver Nuggets in 5 games (4-1). James also had 16 rebounds and 10 assists, scoring 16 of his 38 points in the 4th quarter. He was automatic down the stretch converting mid-range jumpers, fadeaways, and a dagger 3-pointer. Fellow superstar, Anthony Davis, accumulated 27 points, 5 rebounds, and 3 assists, as the Lakers won the Western Conference Championship and advanced to the NBA Finals.
Additionally, there were important contributions from the likes of Dwight Howard, Alex Caruso, and Danny Green to wrap up the series. Howard, who started in place of JaVale McGee, had a vital defensive presence in the contest and was essential in slowing down Nuggets star Nikola Jokic. He had 9 points (3-4 FG) and 9 rebounds, in 35 minutes. Despite picking up a flagrant foul for an elbow on Paul Millsap, Howard kept out of foul trouble throughout. Something that he has struggled with in previous contests.
Alex Caruso led the Lakers with 8 points in the first quarter on a perfect 4-4 shooting. Even though he only scored 3 more points in the game, his defensive effort late-on contained the Nuggets and assisted in handing the purple and gold the victory.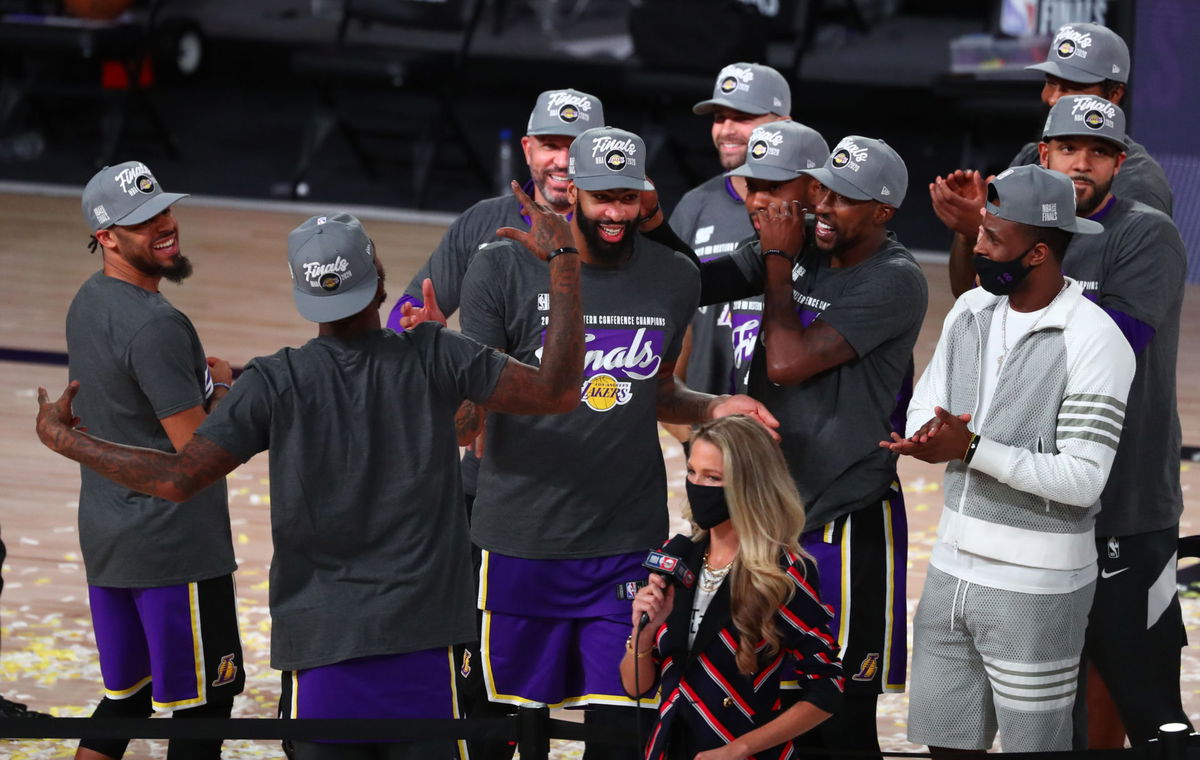 Danny Green had been struggling throughout the series, after regaining form against the Houston Rockets in the second round. Even though he was shooting just 28.6% from the field in games 1-4, Green stepped up with a huge 3 with a couple of minutes to go in Game 5. He also had a pair of important blocks, including one in the fourth on Jokic. On the night Green had 11 points (2-4 3P) and converted 3-4 from the free-throw line. The most free-throws he's hit in a game since a win on December 16, 2019, against the Atlanta Hawks.
Even with a third-quarter slip that let the Nuggets back into the game, the Lakers cruised to a 117-107 win to stamp their ticket to the NBA Finals for the first time in 10 years. The very next night, the Miami Heat brushed aside the Boston Celtics in 6 games, to set up a Lakers-Heat finals matchup.
The LeBron James and Anthony Davis matchup versus Jimmy Butler and Bam Adebayo will be a fascinating one. But the title could be won through whose role players step up, with the likes of Danny Green, Kentavious Caldwell-Pope, Alex Caruso, Rajon Rondo, Dwight Howard, and Kyle Kuzma all waiting in the wings to contribute to a Lakers triumph. Whilst, on the other hand, Tyler Herro, Jae Crowder, Goran Dragic, and Duncan Robinson will be looking to fire on all cylinders to take the Larry O'Brien Championship Trophy back to Miami.
Featured Image Credit: Kevin C. Cox/Getty Images
---
Check out Lakers UK's podcast The Lake Lake Show. The show is streamed live over on Twitter, Instagram, Twitch, and YouTube, and is also available on all podcast platforms. Including Apple Podcasts, Spotify, and Google Podcasts.
Lakers UK are proud affiliate partners of the NBA Store Europe. We do possess a unique promotional code that can offer our readers and followers 10% off site-wide through the following weblink.
NBA Store Europe: nbastore.vwz6.net/6rrvq and enter the promotional code LAKERSUK10 at checkout. This is not limited to Lakers gear, the discount is available site-wide on any product you wish to purchase!
Also, Lakers UK are proud partners of Manscaped, who launched in the United Kingdom in early 2020. Head over to www.manscaped.com and enter the promotional code LAKERSUK20 at checkout for 20% off any order, plus FREE shipping.