Number 8 – Elgin Baylor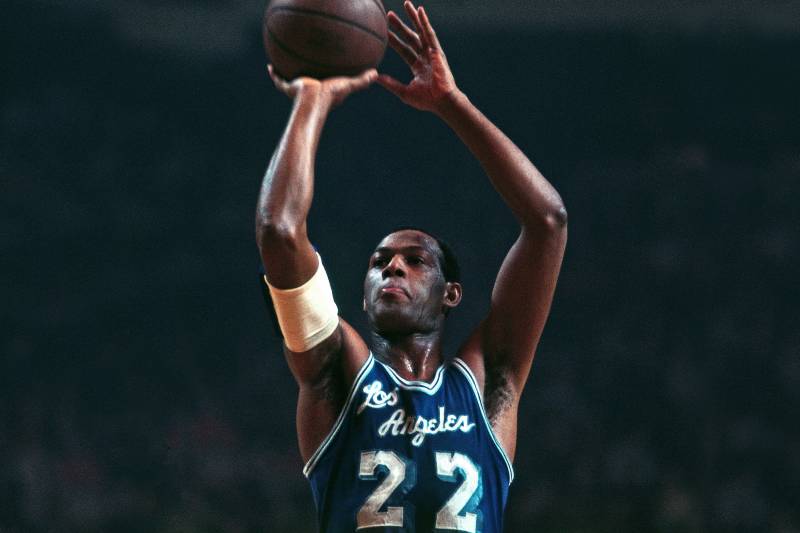 Elgin Baylor would face defeat in the second round of voting as he lost out to Kareem Abdul-Jabbar with 98.2% of the vote.
Because of the lack of game tape available for analysis From Baylor's playing days, for his review, we decided to look at the wider picture of Baylor's success throughout his career.
Here is an excerpt from 'The Greatest Lakers of All-Time: Elgin Baylor':
The Lakers had desperately needed a star since the retirement of George Mikan, winning only 19 games in the 1957-58 season. Baylor was more than the answer to the Lakers prayers, averaging 24.9 PPG and 15 RPG in his rookie season, winning Rookie of the Year, earning his first All-Star appearance, an All-Star MVP award, and his first All-NBA 1st team selection. As well as leading the Minneapolis Lakers to their first finals appearance since Mikan's surprise retirement.
Baylor would, unfortunately, suffer his first finals loss at the hands of the Boston Celtics, losing in four straight games to Bill Russell and Co. Baylor would then come back stronger after an incredible rookie season, scoring 29.6 PPG and 15 RPG in the following season. Earning another All-Star appearance and an All-NBA 1st team selection. The Lakers would only manage 25 wins in the '59-'60 season, struggling to put useful players around Mr Inside. The next best performer was Rudy LaRusso with 13.7 PPG and 9.6 RPG.
During the 1960 offseason, the Lakers would make history in becoming the NBA's first west coast team. The decision was made due to the fall-off in attendances after the retirement of Mikan. With the presents of Baylor not enough to pull in the crowds the franchise once had. Bob Short, the Lakers owner at the time, saw an opportunity, especially after watching the example set by Major League Baseball's Los Angeles Dodgers when they moved from Brooklyn to LA in the 1958 season.
To read on, make sure to go and check out the original article.
After being drafted by the Minneapolis Lakers with the first pick in the 1956 NBA Draft, Baylor opted to stay at school and gain a proper education before joining the team in 1958. He would go on to win a Rookie Of The Year award, 11 All-Star selections, an All-Star MVP award, 10 All-NBA First Team selections, and later an induction into to the Naismith Basketball Hall of Fame.
In 1983 the Lakers made it so no other Laker would wear number 22 again, hanging his jersey in the rafters of The Forum, and now the Staples Center. Becoming the joint first player (with Wilt Chamberlain) to have his number retired by the franchise. More than making him worthy of a place on this list as a true Laker great!