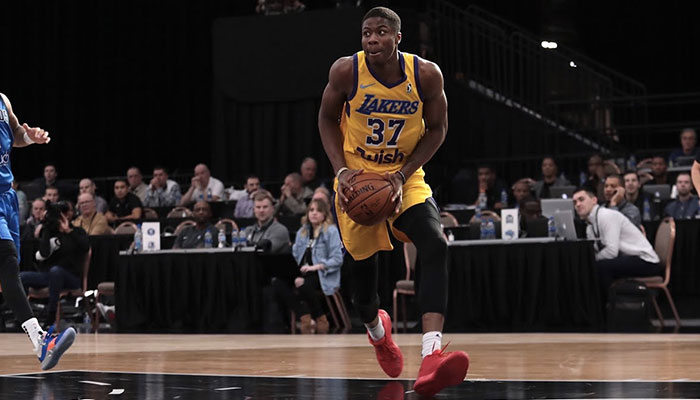 Antetokounmpo's Consistent G League Season:
Despite seeing a slight dip (12.2 PPG) in February, Antetokounmpo's performance throughout the season has been very consistent.
Possessing an enormous 6-foot-10 frame, with a 7-foot-2 wingspan, he can be a dominant force on both ends of the ball. Even though he's listed as a forward, he has been playing primarily through the center position for South Bay.
His long, wiry physique make him a nuisance for opponents on the defensive end. Where he picks up deflections, steals, and blocks on a regular basis. His 1.3 blocks per game could possibly be higher, considering his size. But much of his contributions don't appear on the stat-sheet. Just his presence alone is enough to knock the opposition off their stride.
Rebound-wise, he snatches 7.8 per game. With 2.1 of those being on the offensive end. Once he's in front of his man, he can clean the glass with relative ease.
Offensively, he's been converting at an impressive 62.3% rate. This has been done on just 8.5 shot attempts too. A very efficient feat to his game. Once he's in the paint, with momentum, particularly off the pick-and-roll, there's not much stopping him. Not to mention on the fast-break.
The 22-year-old knows how to use his body. However, at present time it's probably not NBA-ready. If he can pile on some muscle, he could compete more physically, if he was to receive playing time with the Lakers. The height and length is certainly there though.
Going deeper into the statistics, Antetokounmpo holds a 20.8% usage rate for South Bay. He grabs 31.9% of the team's rebounds, and his blocks total 53.7%. His importance on the team is clear to see.
Although, towards the back end of the season, before the suspension hit, he was particularly impressive.
Select the link below to navigate through the pages to see Kostas Antetokounmpo's progress this season.