Following on from our last article where we graded the Los Angeles Lakers' 2019/20 starters, we are now turning to the bench players to assess their performances this season. 
After an impressive rookie season and a decent second, expectations were high for Kyle Kuzma. Especially when he was purposely left out of all trade discussions. Kuzma hasn't performed to the level or standard that he produced last season. However, some aspects of his game have improved significantly.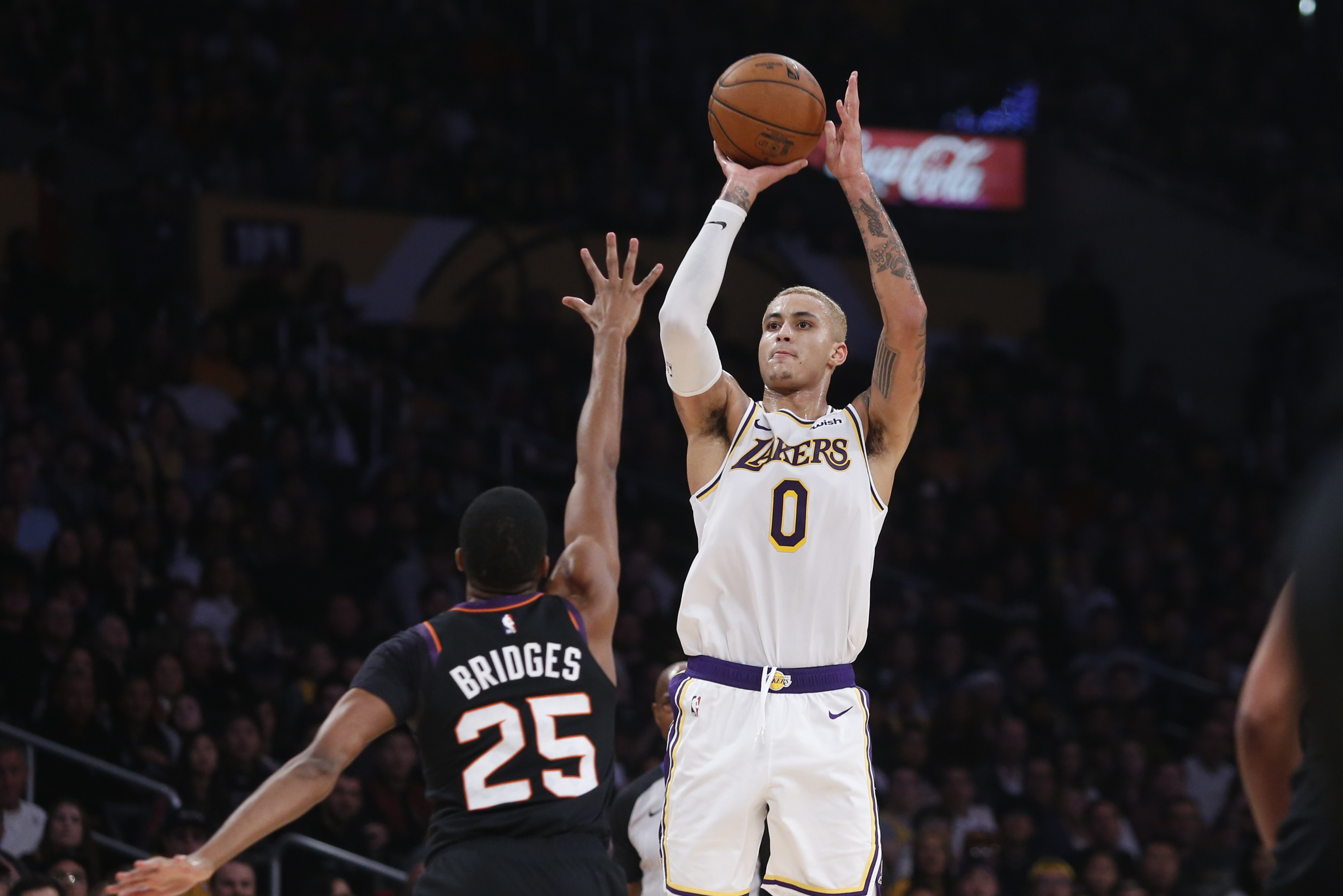 Kuzma's three-point efficiency has declined quite drastically since his rookie season and it's decreased again from last season to a worrying .297%. Kuzma has shown he is capable of being a threat from deep, but it has been in flashes rather than on a consistent basis. With some of the passing talents on this team such as LeBron James, Kuzma is getting some nice looks and needs to be hitting them with more efficiency. 
Kuzma's shooting has decreased in pretty much every statistic that you look at and this has contributed to his overall field-goal percentage dropping to .432%.  
Although Kuzma has struggled with the offensive aspect of his game this season the same cannot be said for his defence. Kuzma's total rebounds per 36 minutes has increased by 0.7 (from last year) to 6.6. This along with an increased effort and focus on defence has helped the Lakers to become the second-best defensive team in the league.  
Grade: C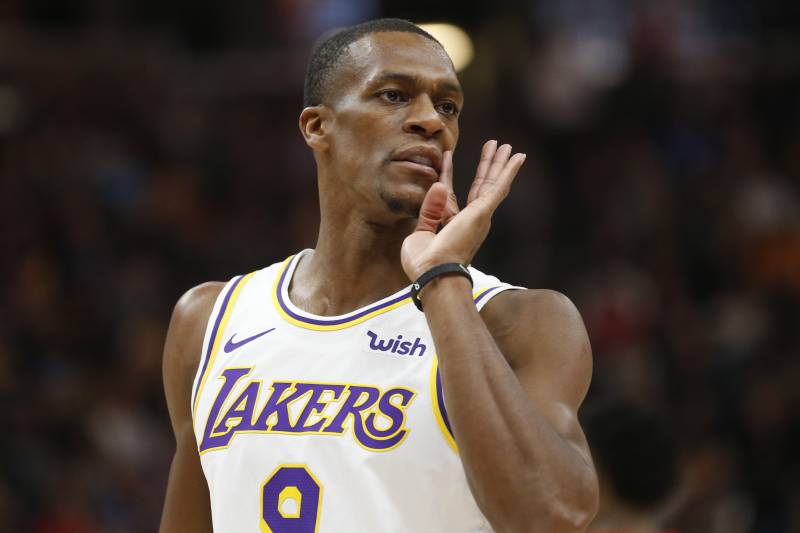 Rajon Rondo's role has been clear and that is to set the pace and control the floor with his elite-level passing, when the bench unit are getting minutes. The execution in this role hasn't been to the level of standard that the Lakers need. Rondo's passing hasn't been at the level that he is known for and his playmaking has been lackluster. However, his work rate is still there. 
Defensively Rondo has suffered this season and it's one of his glaring weaknesses. One that normally is worth the trade-off because of the assists and plays that he creates. However, it has been exploited often this season. Rondo is averaging his lowest steals per game of his career at 0.8, as well as averaging the lowest total rebounds of his career, with 3 per game. 
Rondo's shooting has improved. His field-goal percentage increased from .405% to .418% along with an increase in his free-throw percentage of .020%. These small increases helped boost Rondo's effective field-goal percentage to .480%.  
Rajon Rondo is past his peak; the playmaking and passing is slowly deteriorating to the point that his weaknesses are starting to outweigh his strengths.
Grade: D
With LeBron James and Anthony Davis on the roster you would assume they would get all the plaudits. However, Dwight Howard has rightfully gained a lot of attention. This season he has been nothing short of phenomenal and no-one expected it. Howard has added a lot to this team. 
Offensively Howard has been finishing around the rim with impressive efficiency especially when LeBron James is throwing sublime assists. His effective field goal percentage is a career-high .737%. Which is more than a .1% increase of his previous career-high (.633%). In the limited minutes Howard is on the floor he is averaging 7.5 points.  
Defensively Howard has been exceptional and in limited minutes is picking up 7.4 rebounds and 1.2 blocks per game. The work rate and determination shown has had a great impact on the team on both ends of the court.  
A lot of people thought 'Superman' was past it but in his second spell for the purple and gold he has been a huge surprise and has excelled beyond everyone's expectations. 
Grade: A
At the start of the season Kentavious Caldwell-Pope struggled. Although, as the season progressed he enhanced his play and is having the most efficient shooting season in his NBA career. 
Caldwell-Pope isn't scoring as many points per game and his field-goal attempts have gone down due to the fact that LeBron James and Anthony Davis are carrying most of the offensive load. Even though his volume has decreased, Caldwell-Pope's efficiency has seen a notable improvement. KCP is attempting 7.42 field goals per game with a career-high .472% conversion rate.
A threat from deep, Caldwell-Pope's efficiency from behind the arc is at a career-high .394%. This is one of the main factors his effective field-goal percentage is at a career-high .565%. Caldwell-Pope's passing and playmaking have definitely improved this season, and this is evident when looking at his assists per 36, compared to last year (up to 2.4 from 1.9).  
Defensively he has improved slightly from last season, but it is still an issue. A few years ago, KCP was becoming a good '3 and D' player however since joining the Lakers the defensive side has been lacking and the work rate and effort isn't quite there. This season KCP has contributed more on the defensive side and has shown glimpses of great lockdown defense. 
Kentavious Caldwell-Pope is having a career-high shooting season and has been playing better defensively. There is still room for improvement though. 
Grade: B
Fan favourite Alex Caruso has been having a season full of highlight-worthy dunks and plays and has generally improved from last season. 
Caruso's efficiency from beyond the arc has taken a hit this year and it's below league average at .355%. His finishing at the rim and mid-range game has improved and this is clear when looking at the increase in his 2-point efficiency (from .431 to .471). Caruso's passing has strengthened too and his playmaking abilities have enhanced over the course of the campaign. Additionally, he is turning over the ball a lot less with only 1.6 turnovers per 36 minutes.  
Defensively Caruso has excelled, averaging 2.1 steals per 36 minutes which is an increase of 0.5 from last year. His work rate and effort on both sides of the floor is intense and he has performed very well in the role. 
Grade: B+
The deep reserves have been left out as they have only played less than 500 minutes this season. Their contributions have been valuable to the team though. Quinn Cook and Jared Dudley have shot well from beyond the arc and contributed some valuable points when called upon
---
Check out Lakers UK's podcast The Lake Lake Show on all podcast platforms. Including Apple Podcasts, Spotify, and Google Podcasts.
Lakers UK are proud affiliate partners of Fanatics UK and the NBA Store Europe. We do possess unique promotional codes for both websites that can offer our readers and followers 10% off site-wide through the following weblinks.
Fanatics UK: http://tinyurl.com/y4vjv32b and enter the promotional code LAKERSUK10 at checkout to receive 10% off. This is not limited to just NBA apparel, but the discount can be used on MLB, NFL, NHL, Football/Soccer gear also!
NBA Store Europe: http://tinyurl.com/y585vud9 and enter the promotional code LAKERSUK10 at checkout. This is not limited to Lakers gear, the discount is available site-wide on any product you wish to purchase!