After Anthony Davis suffered the lower back injury against the New York Knicks on the 7th of January, the Los Angeles Lakers got there first chance to show what they could do without there All-Star Big Man. With AD back in the starting lineup, it is definitely worth having a look into whether the Lakers can compete without him.
Anthony Davis initially underwent an MRI after the injury but was then diagnosed with a gluteus maximus contusion. Fortunately for the Los Angeles Lakers, the fall did not cause major injury for the former Kentucky Big Man.
Even though Davis is considered a cornerstone for the Lakers title chances this season, it is well worth taking a deeper look at how capable the Lakers are without The Brows. At the end of the day, considering his health in the past, it is not out of the question that the Lakers may have to endure a long stint without AD in the future. Perhaps even into the playoffs.
The five games the Lakers had to play without AD is a good sample to pull from as it is the first extended period of games the Lakers had to face without there starting Power Forward.
Almost surprisingly so, the Purple and Gold did pretty well in Davis' absence. From the 10th through to the 18th of January they won four of five games, only losing late to the Orlando Magic on Wednesday the 15th.
Despite Davis providing 27 points and 9 rebounds a night, the Lakers stats didn't drop off at all they went up.
So who was responsible for filling the gaps?
LeBron James
Even though LeBron James missed one of the last five games, he kicked his (already heavy) workload up a notch to keep this team ticking. Until AD went out, James averaged 25 points and 10.8 assists on the season, in the four games he scored an average of 29 points a game and assisted on 11.5 shots for the 16-time champions.
As far as Usage Percentage is concerned (a stat that estimates the percentage of team plays used by a player while he was on the floor), James went up slightly from 30.8% to 32.6%. This goes along nicely with a 5% percent increase in True Shooting Percentage.
James also had a 3 point increase in his Player Impact Rating (PIE measures a player's overall statistical contribution against the total statistics in games they play in).
This is expected from James when his Robin goes down, he is more than capable of carrying this team for short stints of the season. But the Lakers must be careful with the four-time MVPs' minutes and Usage Percentage as they learned their lesson the hard way last season.
The organization will hope that moving forward some of the other guys can step up, whether that requires a trade or otherwise.
Kyle Kuzma
Kyle Kuzma has to be an obvious mention. After a pretty impressive five games, including an extremely successful game against the Oklahoma City Thunder. Scoring 36 points in the game, shooting 62.5% from the field, this added nicely to his average of 20 points over the 5 games where Davis was absent – going up from his usual 12 points a game.
As expected, Kuzmas' minutes went way up. Over the five where Davis was unavailable, Kuzma played an average of 32.7 minutes a game. As opposed to his 23.4 minutes a game he averaged throughout his first 28 games of the season. Of course, this coincided with him taking more shots, with his Field Goal Attempts going from 10.3 per game up to 17 shots a game.
Unfortunately for Kuzma, that's where the upwards trend ends, everything else pretty much stayed the same. This, however, does create an interesting conundrum regarding Kuzma. And whether it is just more minutes he needs to be effective as a third scorer, or it's the fact that a combination of coming off the bench and the style of play whilst Davis is in the rotation has some sort of effect.
The main issue is perhaps Kuzma struggles without an efficient offensive initiator. In the five games without Davis, Kuzma either started alongside LeBron James (one of the best offensive initiators in the game) or a red hot Rajon Rondo.
This is depicted well when you look at the Net Points Per 100 Possessions for 2-man combinations. When Kuzma plays with James they sit at +14 (highest on the team). The next two highest-rated for Kuzma is when he plays with Rondo (+8.2) and Alex Caruso (+7.8). This shows that when Kuzma comes off the bench and the back- up Point Guard is struggling then he will almost definitely struggle to be effective himself.
This probably means that Kuzma's current form isn't sustainable when he joins back up with the bench unit. Unless he finds a way to score efficiently without a playmaker he may not be the answer to the Laker's third scorer needs.
Quinn Cook
Another player that benefited from the increase in minutes over the last 5 games was Quinn Cook, particularly in the loss against the Orlando Magic on January 15th. He scored a season-high of 22 points on 9 of 14 from the field. He played in all five games whilst Davis was unavailable but only received significant minutes in three of the games.
In the three games in which he played at least 18 minutes he averaged 14 Points Per Game and shot 66.8 True Shooting Percentage; that's a nice increase coming from averaging 4.6 PPG and a TS% of 48.5. He was also able to improve his PIE rating over the three games, up to 13.3 from 6.3.
This is a nice little flash in the pan group of performances from Cook, a player that many expected a bit more from before the season started. This recent little stint may show that he requires more minutes then he usually receives to be effective
Dwight Howard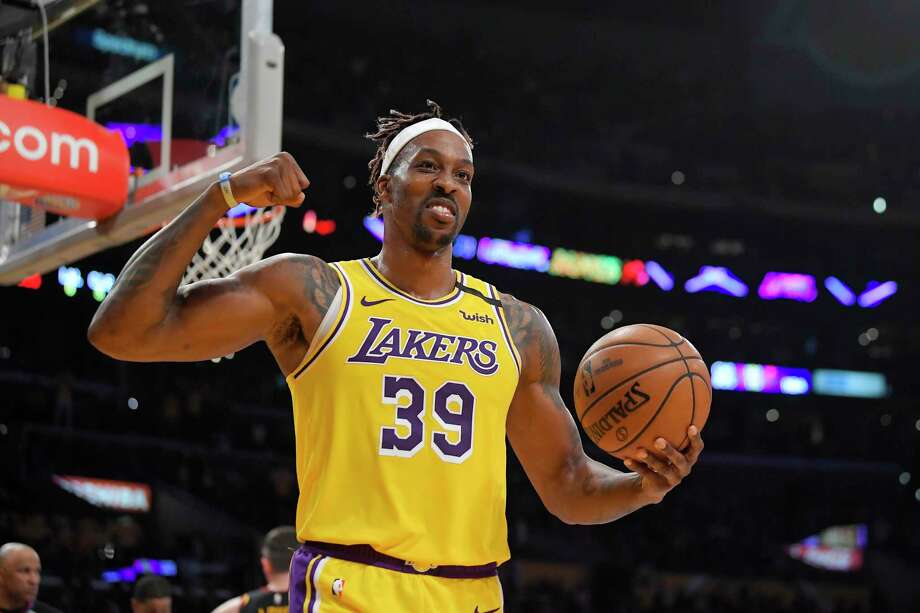 So who grabbed those extra rebounds while there wasn't a 6′ 10″ 250 lbs beast recording 9 a game? Nonother than Dwight Howard. After his return to the Lakers this summer Howard has bean impressive but was still able to take it up a notch when given the space to do so.
With a slight increase in playtime, Howard was able to pull in 12.2 rebounds a game. It left him averaging a Double-Double at the end of the five games as he was able to record 11.6 points per game, up from his season average of 7.1.
As far as Advanced stats go, he also improved. The big man's USG% rose from 13.5% to 18.2%, showing that the initiators recognized the extra space Howard had inside while Davis recovered. To go along with the increased usage, Howard managed to increase his PIE rating from his season average of 10.8 up to 15.7.
All in All, the three-time DPOTY had a solid five games. With the help of fellow big man, JaVale McGee, they were able to make up for the hole in rebounding that they could have suffered from without Davis. With him also being able to make slight improvements in other areas of the game.

Rajon Rondo
With almost an honorable mention we have Rajon Rondo. A guy who due to injury was only able to play two games in the concentrated group of games Davis missed, but boy did he play well in one of those games.
In the game against the Oklahoma City Thunder on the 11th, Rondo scored 21 points, earned 8 assists and grabbed 12 rebounds. Isn't it strange that it coincided with Lebron James taking a night off?
Even though this is just a small flash of what Rondo used to be, it is a sign for Lakers fans that he is still capable of that, even just for one game. I am not saying that in anyway Rondo is back in his Celtics days but it is well worth having him on the roster in case he decides to have a vintage day in the playoffs.
To summarise, if the Lakers are forced to play another 5-6 regular-season games without Anthony Davis they'll be able to survive. Unfortunately, the playoffs are a whole different case. Without any kind of movement in the buyout market or before the trade deadline (February 6th), the Lakers' success this season hinges completely on there two main guys.
You could argue this regarding any team but it applies especially to the Lakers as they lean on James and Davis to not only be there main scoring output but also facilitate their whole offense.
---
Lakers Fanclub UK are proud affiliate partners of Fanatics UK and the NBA Store Europe. We do possess unique promotional codes for both websites that can offer our readers and followers 10% off site-wide through the following weblinks.
Fanatics UK: http://tinyurl.com/y4vjv32b and enter the promotional code LAKERSUK10 at checkout to receive 10% off. This is not limited to just NBA apparel, but the discount can be used on MLB, NFL, NHL, Football/Soccer gear also!
NBA Store Europe: http://tinyurl.com/y585vud9 and enter the promotional code LAKERSUK10 at checkout. This is not limited to Lakers gear, the discount is available site-wide on any product you wish to purchase!