With the trade deadline fast approaching, rumours are flying. So out of this current Lakers group, who are the most likely players to be moved or dropped?
When looking at the Los Angeles Lakers on the court, it is clear to see that they require something extra. Whether it's a wing defender or an additional ball-handler, the options are definitely there.
The one thing that General Manager Rob Pelinka needs to decide is who he is ready to move on from. It's definitely a difficult decision, particularly considering the events of the last week. But there is also a clear drop-off in skill in this Laker group that needs to be addressed.
With the line between getting a good deal and overpaying being so fine in the NBA. With players available such as Darren Collinson, Derrick Rose and Andre Iguodala. Will the Lakers make the right choice in terms of the players they want to move on from?
Waiving Options: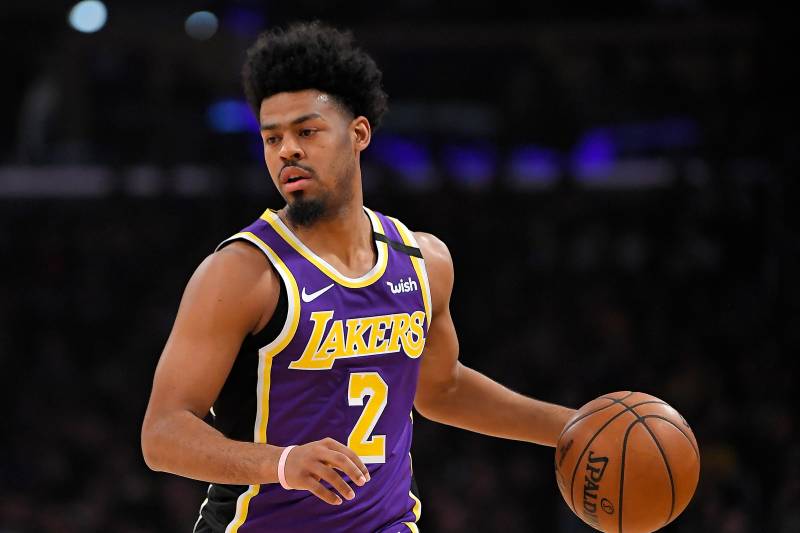 Quinn Cook
Quinn Cook's name has been coming up in this conversation since the start of the season. He has only played 32 of the Lakers 48 games, starting in none of them. Although he did show a lot of potential to be used as a contributor during his stint with the Golden State Warriors, he has really struggled to make his mark with the Lakers. Averaging just 5.3 points and 1.3 assists per game.
There is an argument that can be made that he hasn't been given enough of an opportunity on the court. It is also quite clear that Cook would be better used as a catch and shoot threat rather than a ball hander but with the purple and gold in desperate need of another initiator, he could very well be on the chopping block.
Troy Daniels
Another player who has been very much at the end of the rotation all season is Troy Daniels, only playing in 4 more games than Cook. Daniels was brought in as a shooter to help stretch the floor in Lebron James' offense. That hasn't necessarily played out. Playing just under 12 minutes per game, it is fair to say Daniels hasn't had much opportunity to play with starting caliber players who are capable of inviting a double team.
Daniels struggles with scoring, averaging just 4.4 points per game. Beyond that, he doesn't really contribute much else to the team. The so called "Three Point Specialist" is only shooting 36% from beyond the arc on the season. Unfortunately for Daniels, he is a player with an easy contract to waive and not much trade value.
DeMarcus Cousins
Coming into the season, DeMarcus Cousins was an extremely exciting prospect for Laker fans. But after suffering a torn ACL in his left knee back in August, a contribution on the court from Boogie has been nothing but a fallacy for the organisation.
Although Cousins plays a minor role as a team guy, he is also a player on the roster who can't play. Therefore many view him as a waste of a roster spot, a roster spot that could be used to acquire a player that not only can play but suits the team's needs as well.
Trade Options:
Kentavious Caldwell-Pope
After a difficult start to the season, Kentavious Caldwell-Pope has made strides in his play this season. This, however, doesn't make him exempt from this conversation. The 6'6″ Shooting Guard has played in all 48 games for the Lakers this season, averaging around 25 minutes a night.
Caldwell-Pope averages nearly 10 points a game in addition to being one of the main on ball defenders for the team, often being tasked with one of the harder matchups on the floor. He is also shooting 43% from 3-point land, up from the 35% he averaged in the previous campaign.
But unfortunately for Caldwell-Pope, he plays a role the Lakers seem to have an abundance of; "3 and D" guys who can defend, but struggle when asked to handle the ball. This combined with his decent production makes him a prime asset for a trade. Although, due to the way Caldwell-Popes contract is set up, he needs to approve any deal before it can go through.
Kyle Kuzma
A name that has been swirling around since the Lakers acquired Anthony Davis back in June is, of course, Kyle Kuzma. With concerns originally being raised that perhaps both of their playing-styles can't mix. Well, it seems that may be true.
Kuzma has struggled since the start of the season. One reason for that may be put down to the unfortunate injury he suffered while playing for USA Basketball this summer. This resulted in him missing the start of the season and having to try and get used to the Lakers new playing strategy on the fly. Something he has actually shown flashes of thriving within. He does, however, remain extremely inconsistent, going for 36 one game and 11 the next.
On the season Kuzma is averaging 13 points a night, down from the season prior in which he averaged nearly 19 points. With his usage hardly fluctuating, this is little more than just a concern for Laker fans. If Kuzma is going to be the 3rd option on a championship team, he is going to have to find a way to be more productive. Either that or the Lakers ship him off for a player who is more accustomed to running an offense and will allow the team to continue to be effective when LeBron James goes to the bench.
Despite his drop off in points this season, the combo-forward is still an extremely enticing trade asset for any team. Whether they are looking to rebuild or retool, Kuzma can be effective on a lot of teams in this league. It definitely will be interesting looking forward if the Lakers front office decides to trade in the last relic of there ever elongating rebuild.
Quinn Cook
Quinn Cook. A player who is definitely a suspect for being on the move, whether it is through one means or the other. Even though he is a possible buy out option, he still holds value in a trade sense if packaged with another piece. Probably another, more productive, player.
Cook can definitely act as a nice little kicker (offered with either of the names above) for a team who is looking for a still relatively young Point Guard who can stretch the floor and perhaps grow into more of a ball handling role.
All in all the Los Angeles Lakers still have a lot of work to do, whether internally or externally, to make sure they are the team hoisting the Larry O'Brien Trophy come June.
---
Lakers Fanclub UK are proud affiliate partners of Fanatics UK and the NBA Store Europe. We do possess unique promotional codes for both websites that can offer our readers and followers 10% off site-wide through the following weblinks.
Fanatics UK: http://tinyurl.com/y4vjv32b and enter the promotional code LAKERSUK10 at checkout to receive 10% off. This is not limited to just NBA apparel, but the discount can be used on MLB, NFL, NHL, Football/Soccer gear also!
NBA Store Europe: http://tinyurl.com/y585vud9 and enter the promotional code LAKERSUK10 at checkout. This is not limited to Lakers gear, the discount is available site-wide on any product you wish to purchase!