Let's face it Lakers Nation, we're spoiled. Our team this season has spoiled us.
We've grown used to 10-game winning streaks. We've grown used to dominating opposing teams on the road to the tune of the best road record in the NBA. We've grown used to having the best record in the Western Conference. We've grown used to watching the best duo in the NBA doing whatever they want to opposing defenses night-in and night-out. However, with all of this said, I'll be one of the first people to say it, we've taken all of this for granted.
We should pause relishing in the euphoria that is this 2019-20 Los Angeles Lakers team and ask ourselves — why is this team so good? Is it our All-Star duo, LeBrow? Is it the steady presence of our veteran players? Is it our role players? How about team chemistry — could it be that? Ladies and gentlemen, I think it is all the aforementioned with special emphasis on team chemistry.
What Laker fan hasn't noticed how much our players genuinely enjoy one another? How much fun they seem to have during each game? The pre-game team rituals, the custom handshakes. Best of all, there is no obvious locker-room drama outside of Kyle Kuzma's idiot trainer's remarks about LeBron James after the loss to the Los Angeles Clippers on Christmas Day.
Meanwhile, confirmed reports have recently surfaced of ongoing locker-room rancor with our frenemies at the other end of the Staples Center "hallway" but that overrated, load-managing, "preferential treatment" locker-room is a discussion we'll save for another day.
This all brings us back to why the Lakers should keep Kuzma — his cost control, his high ceiling, and team chemistry. Kuzma is in the third year of his 4-year, $8.65 million rookie contract. This season he is making a paltry base salary of $1.974 million. In the final year of his rookie deal, he is scheduled to get a bump in salary to $3.562 million since his option was picked up.
As the 27th overall pick in the 2017 draft, he has clearly outperformed his contract and best yet, he hasn't even begun to enter his prime. Lakers General Manager Rob Pelinka knows this type of cheap, cost-controlled, high-ceiling production is not something you simply trade away unless it is for a high-level, impact player and, unfortunately, those types of players frequently just do not become available for trade.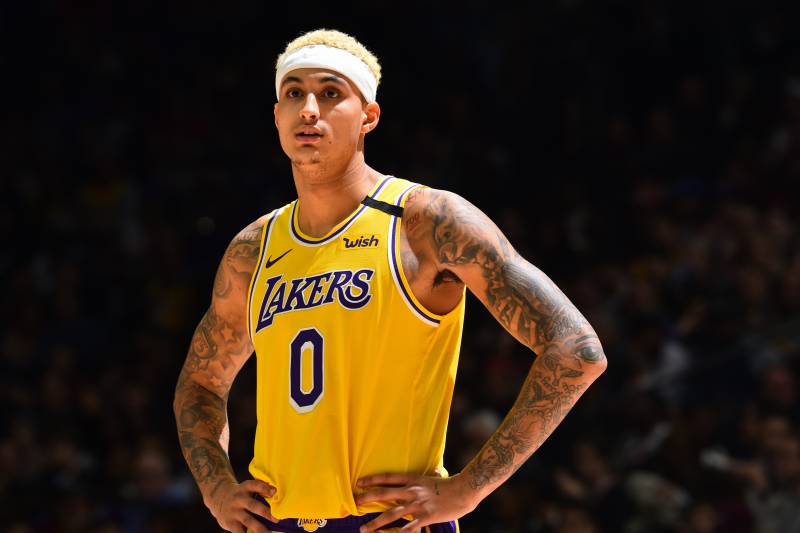 Kuzma's value to the Lakers championship run is vital whether fans choose to admit it or not. LeBron James acknowledged as much after the win in Brooklyn in January, when asked about the makeup of our team for a deep playoff run. Not to mention, we still control Kuzma for one more season, then restricted free-agency opens-up. Although, some believe Pelinka will lock the 24-year-old up long term before that.
It's understandable why a large percentage of Lakers Nation is down on Kuzma. Fans all have eyes, they recognize what they have witnessed. His play has been inconsistent and his basketball IQ leaves a whole heap to be desired. He takes bad shots, makes some bad defensive decisions, his on-court positioning is off, and so forth.
Further, others complain he is too caught up in Hollywood. He is too interested in dating the next Hollywood celebrity, and he is too interested in modeling his next outfit for his Instagram account. These are all valid points, but what we must remember is in all these off-the-court concerns, the kid is 24-years-old, lives in Los Angeles, is single, is handsome, and is a millionaire! He is supposed to be doing what he is doing and that is maintaining a work-life balance.
Kuzma is the Lakers' 3rd offensive option, essentially the 6th man off the bench. What he needs to help advance his consistency and development is a play-making point guard to run the offense, set him to up, and probably a veteran wing defender to help him out on the second unit. That play-making point guard could be Darren Collison.
Envision a core second unit of Collison, Caruso, Kuzma, Dwight, and a to be named, impact wing defender. Good, right?!
Chemistry is essential to a team's success in this league unless you are the Golden State Warriors and have four superstars in your starting five. Look at the run the Clippers made last season. Most of their success was based on chemistry and excellent coaching. It is no surprise they are having chemistry issues this season, but again, this is a topic for another day.
To bring in Collison, who leaves — Cook or Daniels? Does bringing in Collison mess up our team chemistry? That will all come to the forefront with the trade deadline fast-approaching.
---
Lakers Fanclub UK are proud affiliate partners of Fanatics UK and the NBA Store Europe. We do possess unique promotional codes for both websites that can offer our readers and followers 10% off site-wide through the following weblinks.
Fanatics UK: http://tinyurl.com/y4vjv32b and enter the promotional code LAKERSUK10 at checkout to receive 10% off. This is not limited to just NBA apparel, but the discount can be used on MLB, NFL, NHL, Football/Soccer gear also!
NBA Store Europe: http://tinyurl.com/y585vud9 and enter the promotional code LAKERSUK10 at checkout. This is not limited to Lakers gear, the discount is available site-wide on any product you wish to purchase!