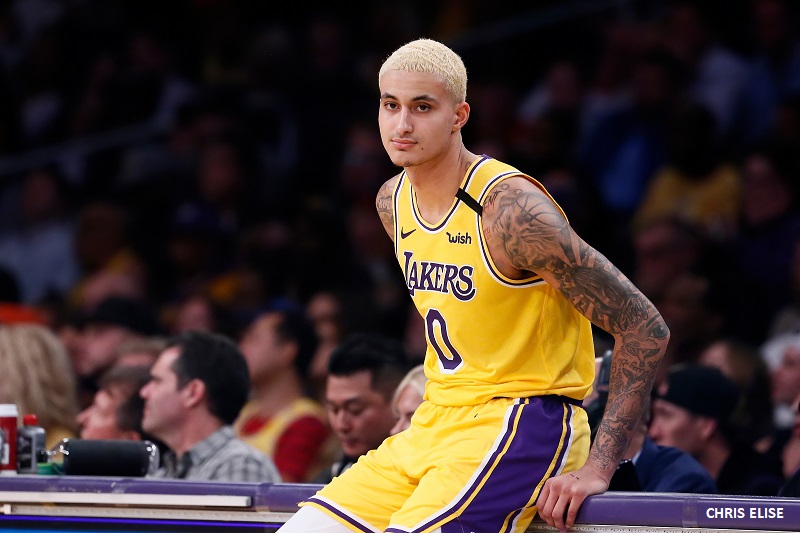 The last of the young core finds himself again at the center of trade rumours. The Lakers shouldn't bite.
It happens every year in the NBA – between Christmas and the early February trade deadline each team in or near championship contention finds itself buried under an avalanche of trade rumors. Networks and reporters boost views by amplifying those rumors, feeding the social media flames. No team gets more attention than the Lakers, and no player more clicks than LeBron James.
It should be unsurprising, then, that for the last two years James and the Lakers have been relentlessly hounded by trade speculation surrounding some or all of the former young core. Many recognized that their long-term development timeline fit uncomfortably with the last few years of elite production James has left. Last year Lonzo Ball, Brandon Ingram, Kyle Kuzma, and Josh Hart all saw their names in the papers connected to trade rumors. Eventually, all but Kuzma were sent to New Orleans for Anthony Davis.
This year, as the team deals with a number of new faces and championship expectations, the stories have centered on Kuzma. In many ways this is a predictable outcome – he is the last of the old Young Core not to be traded and there has been a persistent media narrative that he is a poor basketball fit alongside James and Davis. Some tantalizing names – Bojan Bogdanovic, Derrick Rose, and Robert Covington in particular – have been connected to potential deals for Kuzma, and those players have obvious and necessary skill sets.
Nonetheless, it would be a mistake to trade Kuzma this year. His value to the team is only starting to become apparent on the court and he projects to contribute in important ways in the playoffs, particularly his ability to help break down the defense from off-ball positions. There is still a lot of progress to be made both in terms of his game sense and how the coaching staff utilizes him, but he has the ability to be an essential part of the team.
Kuzma's ability as a scorer is well documented, but it is highly situational. As a creator off the dribble, he is turnover prone and inefficient. It is when asked to be the primary creator on bench units that he has struggled, and those struggles along with his mediocre counting stats this year have contributed to an online narrative that he is a liability.
Yet, Kuzma's per-36 production has remained steady from last year while he is back to league average as a 3-point shooter. His wing defense, when not asked to lock down longer or stronger players in isolation, has been good. When he has looked bad, it has largely been because of the Lakers' difficulties with finding a suitable backup point guard.
As an illustration, consider that Kuzma's net rating when playing alongside James and Davis is the highest of anyone on the team. Yet he spends a significant proportion of his minutes expected to make up for lost production while one of them rests. He is the most significant bench scorer for the Lakers, but he is at his best attacking an offense that has already been compromised.
With the bench units, he is reliant on Rajon Rondo or Alex Caruso to initiate the offense and find him, for instance, when he cuts to the basket to take advantage of a ball-watching defender. Rondo has been maddeningly inconsistent finding Kuzma on these off-script sorts of reads and Caruso is best played off the ball himself on offense.
The inconsistency in Kuzma's offensive impact has, therefore, been less a function of his play than of what he has been asked to do in the offense. In particular, if the Lakers can find an upgrade at the backup point guard position he will find himself in much more familiar and comfortable spots. When such a simple upgrade can help unlock a player of Kuzma's talent, making that move is always a preferable alternative to trading him, particularly while he is still contributing well above his pay rate.
Putting Kuzma's internal situation to the side for the moment, the packages that have been floated for him have been underwhelming. Bogdanovic is a skilled offensive player and underrated defender, but he is also in the last year of his contract and certain to be expensive even if he were committed to staying with the Lakers.
Rose's resurgence in Minnesota and Detroit have been inspiring but trading a promising young player for a point guard past his expiration date with a history of injury is a questionable long term decision. It isn't immediately obvious that Covington is a better player than Kuzma right now, even if his wing defense does fill a need.
How frequently in the last 8 months have Laker fans mourned the loss of Ivica Zubac and Svi Mykhailiuk in trades for specialist vets of exactly the kind being discussed now with Kuzma? Neither of those trades panned out and neither of those vets remains with the team.
---
Lakers Fanclub UK are proud affiliate partners of Fanatics UK and the NBA Store Europe. We do possess unique promotional codes for both websites that can offer our readers and followers 10% off site-wide through the following weblinks.
Fanatics UK: http://tinyurl.com/y4vjv32b and enter the promotional code LAKERSUK10 at checkout to receive 10% off. This is not limited to just NBA apparel, but the discount can be used on MLB, NFL, NHL, Football/Soccer gear also!
NBA Store Europe: http://tinyurl.com/y585vud9 and enter the promotional code LAKERSUK10 at checkout. This is not limited to Lakers gear, the discount is available site-wide on any product you wish to purchase!