As we round out the decade, here at Lakers Fanclub UK we are looking back over the past 10 years and the events that took place.
We started by listing the players that the Los Angeles Lakers drafted during the tanking years (2013-2017), and where they are now. You can find that article here.
Now, we dive into the 2010 Championship winning roster in similar fashion. Who they were, what they have done since, and where they are now.
Kobe Bryant
Even after his historic 2010 championship run, Kobe Bryant didn't slow down. The Black Mamba continued to play at a level of excellence in search of a 6th championship, however injuries to both himself and his teammates deterred Bryant of acquiring another championship.
Bryant suffered a tragic injury in 2014, tearing his Achilles. Thus, making him a shell of his former self. Following this he eventually retired in the 2016 season, with that memorable 60 point performance that also featured a game winner, in his final outing.
Despite constant requests from his fans, Bryant hasn't made any indication of returning to basketball. Instead, he has started ventures in numerous new fields; from storytelling, to film-making, and athlete preparation. He produced the short film Dear Basketball, which went onto win an Oscar, as well as an Emmy Award.
Kobe Bryant also started the ESPN show, Detail, where he goes through film of athletes to highlight their skill-set and reveal some of their weaknesses. In addition to this, he opened the Mamba Sports Academy, a training center that assists athletes of all levels in reaching their highest potential.
He has even dipped his toe into storytelling, by releasing several books. His first notable release was Kobe Bryant: The Mamba Mentality, where he described his many years in the league. His latest project is the Wizenard series, a collection of stories aimed at teaching the youth life lessons through the metaphor of sports.
It should come to no surprise that Kobe Bryant is still doing so much and achieving success in the process. Bryant has brought the fervor and perseverance for perfection from the basketball court to his daily life.
He may not be returning to the basketball court directly, but Kobe Bryant is continuing to leave his mark on the game that made him.
Pau Gasol
Pau Gasol remained as one of the NBA's top big men following the 2010 championship. He left the Lakers for the Chicago Bulls in the 2014 free agency period, and earned All-Star recognition whilst in in Chicago.
Gasol has since continued to play in the NBA but has been slowly regressing. Mainly being a spark off the bench and a veteran leader. Currently, he is rehabbing a foot injury that resulted in him being waived by his most recent team, the Portland Trail-Blazers.
Now 39-years-old, Pau Gasol has not mentioned any sign of retirement and it seems that he is still interested in making an NBA return. We may see him on the court again very soon, once healthy.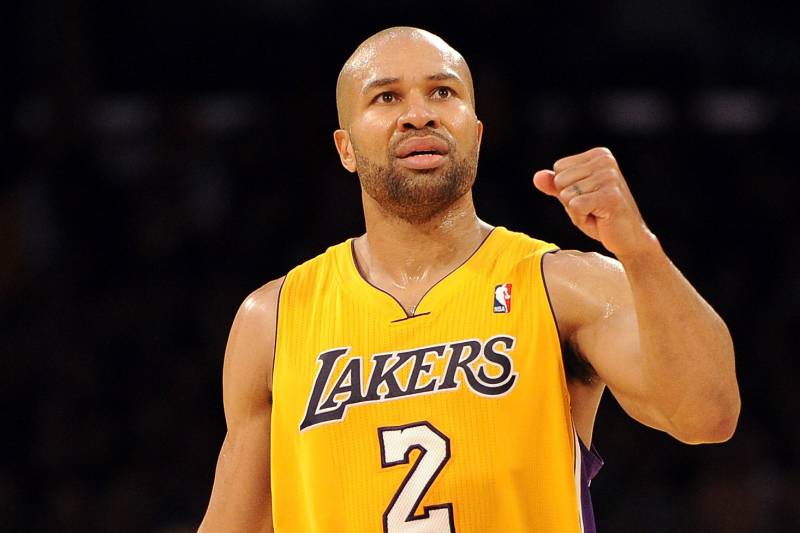 Derek Fisher
Derek Fisher has been a player that has never really left the sport of basketball after winning the 2010 championship.
In terms of his playing career, Fisher bounced around from team-to-team (Golden State Warriors, Utah Jazz, Oklahoma City Thunder, Dallas Mavericks), before eventually retiring in the 2013-14 season. Obviously, there was that 1st spell with the Lakers too, that resulted in 3 NBA Championships (2000-02). Bumping his ring total up to 5, alongside the 2009 and 2010 triumphs.
Fisher immediately signed for a coaching role with the New York Knicks, following his playing career, which lasted for less than 2 seasons. He was fired midway through the 2015-16 season. Afterwards, he tapped his toes into the broadcasting world, appearing as a guest speaker and analyst for many shows. This lead to Fisher joining Spectrum SportsNet to be an in-studio analyst for the Lakers.
Now, Derek Fisher is working as the Head Coach for the WNBA's Los Angeles Sparks.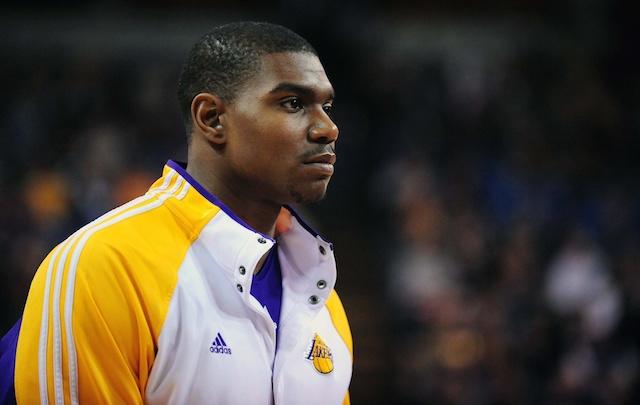 Andrew Bynum
Andrew Bynum has one of the more sad post-championship stories of the roster. He did set record numbers following the championship win, even being chosen as an All-Star in 2012. However, clashes with Kobe Bryant resulted in Bynum being traded away to the Philadelphia 76ers.
In Philadelphia he faced a career changing injury that forced him sit out the entire 2012-13 season. Bynum never returned to being the All-Star he once was and only played 26 NBA games following his Lakers tenure.
It was reported in 2018 that Bynum was looking to make an NBA comeback after fully rehabbing his injured knee. The intent is certainly there for the now 32-year-old to return.
Andrew Bynum's style of play would not necessarily fit into the modern NBA. He is unlikely to get a spot on an NBA team, but there is a chance that he could opt to play in Ice Cube's Big 3 league, or even overseas. Either way, it will be nice to see the once star player back on the court.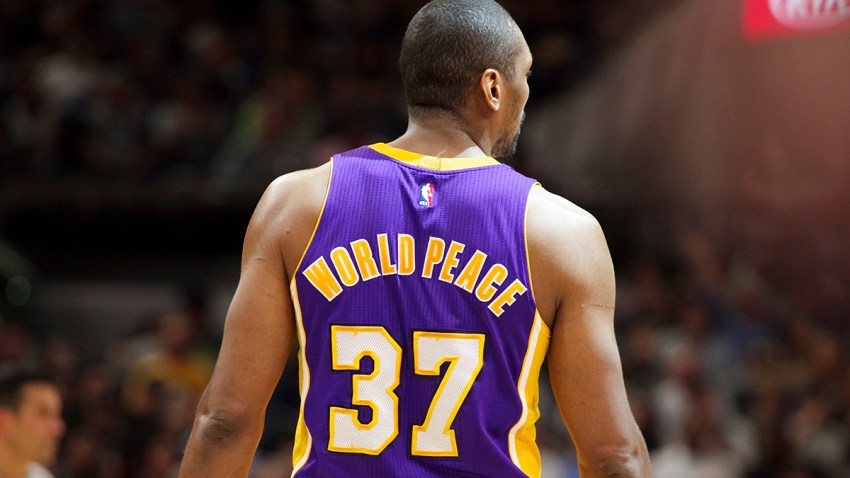 Ron Artest/Metta World Peace
Ron Artest, now known as Metta World Peace, has had an illustrative career to say the least, and this trend continued after his championship run with the Lakers.
Following the championship, World Peace continued to play in the NBA for 6 years, with brief spells in China and Italy sandwiched in-between. However injuries and age caught up with him and his playing career came to an end. Whilst with the Lakers in-fact, in 2017.
Since retiring, World Peace took on the job of being a Player Development Coach for the Lakers' G-League affiliate, the South Bay Lakers, where he currently still is. He also played in Ice Cube's Big 3 league in the 2018 off-season, and has appeared in the media on numerous occasions as a guest speaker and analyst.
Lamar Odom
Lamar Odom is a player loved by fans of the purple and gold. Mainly for being one of the best sixth men in franchise history.
Although, Odom's career has taken a downward spiral since then. He played 3 more seasons in the NBA, beyond the 2010 championship season, but was then forced to leave after he could not obtain a roster spot in the 2014 free agency period.
Odom went onto play overseas in the Euro-League, but was only to play 2 games after suffering a back injury. As recently as 2018, he planned on playing for the Chinese Basketball Association, but ended up backing out because he did not see himself as fit enough. Odom was also deactivated by the Big 3 league in 2019, after just 1 game.
Overall, Lamar Odom has encountered much bad luck in his later basketball career. But given his personal problems, it's great to see him fit and healthy off the court.
Shannon Brown
Shannon Brown hasn't had the most exciting career of any NBA player, but he was a contributing factor to the Lakers 2010 championship nonetheless.
Since then, Brown played 5 more seasons in the NBA, with the Phoenix Suns, San Antonio Spurs, and New York Knicks, until he was finally waived by the Miami Heat in 2014.
Brown then went on to play in the G-League between 2016 and 2018. He then eventually landed in the Big 3 league, getting drafted by the Aliens in 2019.
Excluding basketball, Shannon Brown has appeared in some films including Think Like a Man and Trainwreck.
Jordan Farmar
Jordan Farmar had a decent NBA career, mainly being a role player and a solid 3-point shooter during his prime years. However, he suffered some injuries and his game started to falter at a rapid rate.
After the 2010 championship, Farmar bounced around the NBA with the New Jersey Nets, Los Angeles Clippers, Memphis Grizzlies, and even with a second spell with the Lakers. His final team was the Sacramento Kings, where he was waived in 2016.
Currently, Jordan Farmar is involved with philanthropic work as he attempts to bring basketball beyond the United States and use it as a way to unite Palestinian and Israel youth.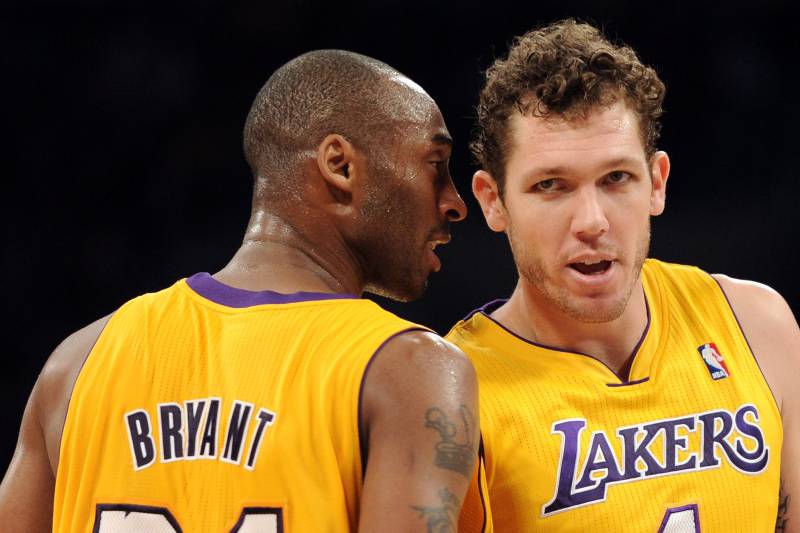 Luke Walton
Luke Walton retired shortly after the Lakers championship run of 2010, following a spell with the Cleveland Cavaliers in 2013.
Walton turned to coaching, joining the Golden State Warriors as an Assistant Coach in 2014 where was a large part of their dominance over the 2014-18 period. He took over as Head Coach of the Warriors during the 2015-16 season when Steve Kerr dealt with an illness. His performances, and winning record of 39-4, gained him the attention of the Lakers who hired him to be their new Head Coach.
Walton's coaching tenure with the Lakers was lackluster to say the least. Both parties parted ways in 2019 and Walton can now be found on the sidelines for the Sacramento Kings.
Sasha Vujacic
Sasha Vujacic was a developing player while he was on the Lakers' championship roster. One that never really was given the best of opportunities to develop.
Vujacic did hit 2 clutch free throws during game 7 of the 2010 NBA Finals, and was loved by Lakers fans for it. However, his career did not go much further. He last played for the New York Knicks in 2017, and has not been in the league since.
Now he can be found playing his trade in Italy, and focusing on helping his family's wine business in his spare time. Recently however, Vujacic has shown interest in returning to the NBA, and has worked out with a few teams.
Josh Powell
Josh Powell's NBA career never really took shape the way we might have hoped, but he has not quit on basketball.
Following the 2010 season, Powell left the Lakers for the Atlanta Hawks, After that, he bounced around many overseas teams, 12 in-fact, all on short term deals.
Josh Powell did have a brief spell with the Houston Rockets in 2014, where he also served as an Assistant Coach, but that was short lived. He is now playing in the Big 3 league, as he hopes to continue playing basketball professionally.
Adam Morrison
Following the 2010 season, Adam Morrison never found his place back onto an NBA roster.
He did try however, spending a further 2 seasons overseas with Red Star Belgrade and Besiktas. This earned him a spot on the Brooklyn Net's 2012 Summer League roster, which lead to a contract with the Portland Trail Blazers. But he was waived a short time later, and that was the last we saw of him on a basketball court.
In 2013, he returned to his alma mater Gonzaga University to take classes. He did become an Assistant Video Coordinator for the Bulldogs for the 2014-15 season.
Nowadays, you can find Adam Morrison on the sidelines for Mead High School, his alma mater, where he is an Assistant Coach.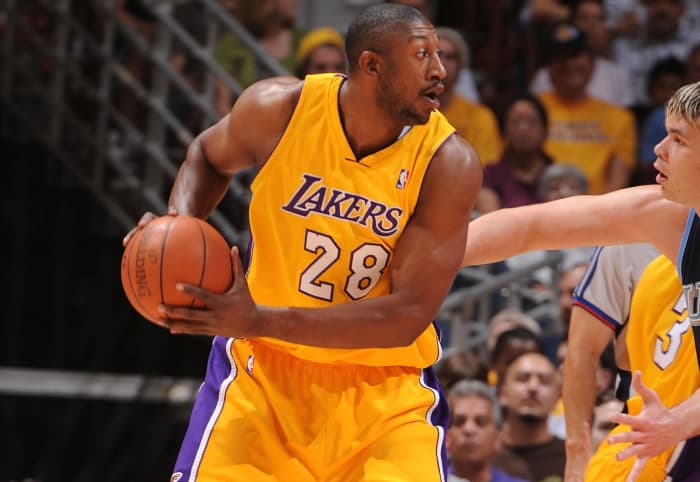 D.J. Mbenga
D.J. Mbenga left the Lakers after winning the 2010 championship, and joined the New Orleans Hornets, for what was his final season in the NBA.
He then took his trade to China and the Philippines, before catching the attention of the New York Knicks in 2014. However, he was waived within 16 days, which lead to his retirement.
D.J. Mbenga is now working with his foundation, the Mbenga Foundation to help children in the Democratic Republic of Congo, and refugees in Belgium.