With the Los Angeles Lakers missing out on their main target in superstar forward Kawhi Leonard this past summer, attention must now switch to free agency 2021. Who will the purple and gold target?
With the summer of 2019 finished, the Lakers will look back at the period as somewhat bittersweet. While the Lakers were able to fill the roster with quality depth and solid starting-caliber players to join superstars LeBron James and Anthony Davis, it will also be remembered as the summer in which they missed out on current NBA Finals MVP Kawhi Leonard, to cross-city rivals the Los Angeles Clippers.
The purple and gold have moved on and started the season strongly, however, a plan must be put in place for the future. While 2021 is 2-years away, it is set to be potentially just as talent-filled as this past action-packed free agency was.
Even though we all hate to admit it, LeBron James' career is closer to the end then it is to the beginning, and the Lakers desperately need to have provisions in place for when he decides to call it a day.
With James having a player option in the summer of 2021, it isn't entirely unlikely that he decides to finish his career back in Cleveland again where it all began. I also wouldn't rule out him taking a major pay cut to help his team add a 3rd superstar, but let's go under the assumption that he leaves the Lakers in 2021.
While the Lakers may be in good hands with Anthony Davis on the roster (who is expected to sign long-term), they will need to create a team capable of not only helping LeBron James short term but also help Davis win and become sustainable post-James.
While there will be a lot of talent available in 2021, but there may be only a select few who will be capable of pushing the Lakers over the top to win the Larry O'Brien trophy.
There are players like Kawhi Leonard, Paul George, Rudy Gobert and DeMar DeRozan available, but the likes of Leonard and George will more than likely not be options after recently signing with the Clippers. Gobert and Davis do to similar jobs on defense, and DeRozan would be an option at the right price but his terrible 3-point shooting this season leaves cause for concern.
Here are 3 players who will be available in free agency in 2021, who could join Anthony Davis, and make a large impact.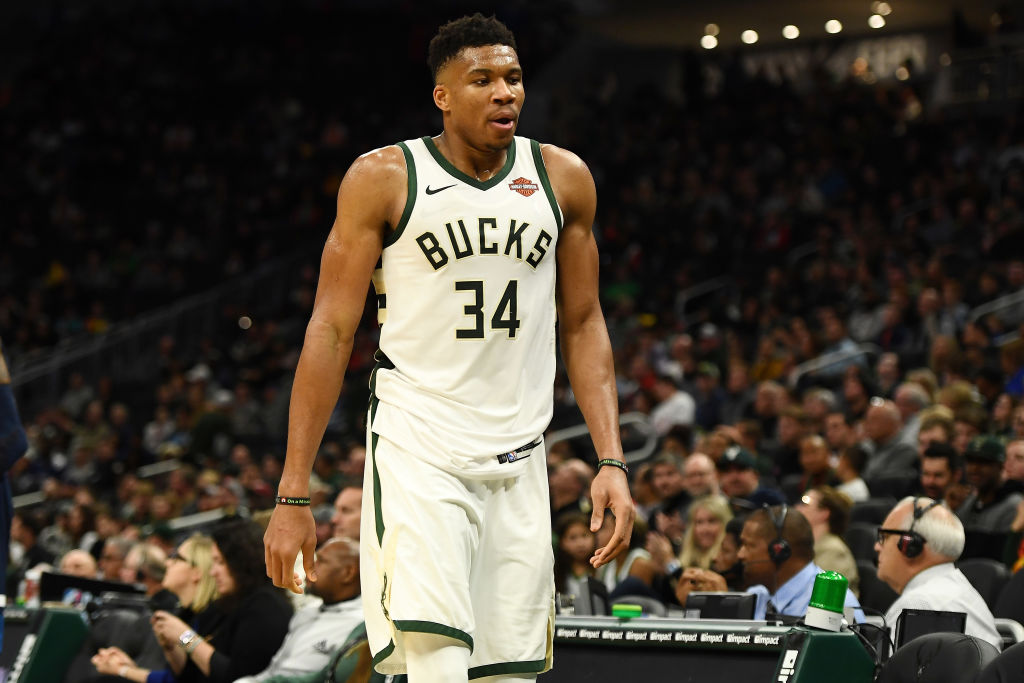 Giannis Antetokounmpo
If you're going to go after a superstar, you might as well go for the reigning MVP, the Greek Freak, Giannis Antetokounmpo. Not since the days of Shaquille O'Neal and prime LeBron James, has the NBA had a more physically dominant player than Antetokounmpo.
With his eye-popping length, his otherworldly athleticism, and his ability to play positions 1 through 5, makes him one of the most unique players in NBA history.
What truly sets Antetokounmpo apart from nearly the entire league is his ability to be elite on both ends of the floor. Don't dare try and go to the rim when the Greek Freak is in the paint otherwise he is swatting your shot into the stands. Now try and beat him on the perimeter, he is either going to strip the ball, get into your chest, alter your shot, or lull you into the paint only to embarrass you.
His ability to do that makes him a great defender, his ability to do that at every position makes him the elite of the elite. Even though Rudy Gobert won the Defensive Player of the Year this year, I don't think many people would have raised an eyebrow had Giannis Antetokounmpo won.
On the other side of the ball, Antetokounmpo will physically bully you into submission, while he may not have a consistent 3-point game, he hasn't needed it so far in his career as he has no problem getting to the rim at will.
If he was to become a knockdown 3-point shooter, then we might be witnessing the dawn of potentially one of the greatest players to ever play the game. While he has a lot left to prove before getting to that stage, he is well on his way to true greatness.
Securing Antetokounmpo alongside Anthony Davis would give the Lakers two of the best and most physically dominant players in the NBA. It would be the ideal time for Davis and Antetokounmpo to take the mantle and push the Lakers forward for years to come.
The purple and gold have laid the groundwork with the hiring of Jason Kidd and the signing his younger brother Kostas Antetokounmpo to a two-way deal. They have 2-years to prepare for Giannis, they better get started on their pitch
Bradley Beal
While Bradley Beal has signed a 2-year, $72 million extension with the Washington Wizards to secure the bag, let's not completely rule him out of moving elsewhere as the Wizards don't seem to be going anywhere in a hurry.
While the Lakers were able to address the 3-point issues at the Shooting Suard position this off-season by adding Danny Green, it may only be a short term solution to a problem the team have had for many years. While Green is a sharpshooter and an excellent defender, he is also 32-years of age and has never been known to be a high volume scorer with a career average of 9 points per game.
While I truly believe that Green will have a career year with the purple and gold, the Lakers must have a close eye on the future, so by the time Green's contract is finished, they have a replacement capable of filling in for him who will be able to score at a high clip each game also.
If you are looking for a Shooting Guard, who will get you 20+ points per game, who can shoot the lights out from anywhere on the floor, and has a career 3-point average of 38.4%, then Bradley Beal is your man. In the absence of All-Star point guard John Wall, Beal has stepped up in a big way and became the leader of the Washington Wizards and over the last two seasons has been an All-Star.
The Lakers could desperately use Beal's shooting abilities as they haven't had a consistent knockdown shooter since Kobe Bryant retired. Adding Beal would not only help out the team enormously but I think Beal himself would benefit greatly from the gravity in which LeBron James and Anthony Davis would demand.
Davis will require double teams nearly every time he touches the ball, if you disrespect him by man-marking him, then he is going to dominate his man and get an easy bucket. Beal would be the recipient of countless wide-open shots due to this. Beal would also be a huge part of the offense, being able to facilitate, as well as score.
While Beal signed an extension this season, it wouldn't shock me if he looked to move elsewhere as the Wizards have had an abysmal Front Office for many years. Also with promoting Tommy Sheppard to General Manager shows that they are struggling to attract any top-level executives. Having Beal on the Lakers would set the franchise up perfectly for numerous title runs moving forward.
Having to trade for Bradley Beal does come with its setbacks, and may cost them a player like Kyle Kuzma, but he is a player who could be worth it, and could have a massive impact on the Lakers long term.
Victor Oladipo
A player that has impressed the hell out of me in the last number of years, is Victor Oladipo. He has shown that he is a superstar in this league. Ever since his move to the Indiana Pacers, Oladipo has shown enormous potential on both sides of the ball.
While playing beside Russell Westbrook whilst on the Oklahoma City Thunder, Oladipo was relegated to a catch-and-shoot role and was always waiting on Westbrook to get his shot off and if that wasn't open, Oladipo would be getting his shots.
As soon as he made the move to the Pacers, he was finally able to become the player he always knew he could be. Whether he is torching you with his speed and ability to get to the rim, he is pulling up from the 3-point line. Oladipo has an extremely well-rounded game that led to him being named the NBA's Most Improved Player in 2018.
While he is currently dealing with a knee injury, he is expected to make a full recovery and will be highly sought after in the summer of 2021. He would certainly offer a long-term solution for the Lakers at Shooting Guard position. His ability to shoot, and to facilitate, would take some of the pressure off Anthony Davis, and would allow for a top-notch secondary scorer.
A Davis and Oladipo pairing would be very hard to stop, and if you add top-notch depth to that roster, rather than chasing a 3rd superstar, then the Lakers would be capable of competing at the very top of the NBA for many years to come.
The Lakers' job between now and then is to show these potential free agents that they are capable of competing for championships. If they can make some deep playoffs runs then the likelihood of landing the big fish the future increases.
The pressure is on over the next two seasons to put their best foot forward. Here is hoping that happens.
By Jonathan Kiernan (@JonathanKNBA)
---
Lakers Fanclub UK are proud affiliate partners of Fanatics UK and the NBA Store Europe. We do possess unique promotional codes for both websites that can offer our readers and followers 10% off site-wide through the following weblinks.
Fanatics UK:http://tinyurl.com/y4vjv32b and enter the promotional code LAKERSUK10 at checkout to receive 10% off. This is not limited to just NBA apparel, but the discount can be used on MLB, NFL, NHL, Football/Soccer gear also!
NBA Store Europe:http://tinyurl.com/y585vud9 and enter the promotional code LAKERSUK10 at checkout. This is not limited to Lakers gear, the discount is available site-wide on any product you wish to purchase!