The pre-season has ended, the regular season is here, and we now have a reasonable idea of what the Los Angeles Lakers will be running this season, offensively.
While imperfect, the team's performances and several of the sets they have run show promising signs that the general judgment of Head Coach Frank Vogel as a weak offensive coach may have been passed too soon.
While any offense featuring LeBron James and Anthony Davis is going to score a lot of points, the margins provided by a well-designed and run offense will make the difference between this Lakers team being simply a good offensive team, or a historically great one.
The Good:
There was an awful lot to like about how the Lakers played offense this pre-season. The stars absolutely performed in their minutes, and the frankly absurd length and athleticism of the Laker bigs provided access to plenty of offensive rebounds. The new coaching staff impressed by demonstrating offensive concepts that, even at this early juncture, seem more advanced and fundamentally sound than anything seen during the Byron Scott and Luke Walton years.
The staff already has the players utilizing some off-ball counter actions that attack the defense with purpose and permit James to demonstrate his passing ability, and have also found some intriguing ways to deal with the weaknesses in their personnel.
Zach Norvell Jr also stood out in significant minutes, including for good measure a couple of highlight-reel plays that will haunt Jordan Poole's nightmares for months to come.
The LeBron James/Anthony Davis Screen and Roll
From the time of Anthony Davis' now-infamous trade request last season, analysts have discussed his potential in a screen and roll with LeBron James in hushed, awed tones.
The early evidence suggests that their reverence was well-founded. As neither are elite shooters from distance, a defense may try to go under the screens, gambling that James will have an off night from 3. Unfortunately for the defense, this approach both gives James space off the dribble and a clear view of the defense to make passing reads.
If James' defender instead follows him over the screen, the defending big has to choose between hedging and giving up the pocket pass to Davis on the roll and permitting James to attack the rim with momentum. If help comes at the rim, James is a deadly mid-range shooter when open and, again, one of basketball history's most celebrated passers.
If the defense is driven to switch, they place themselves at the mercy of either James or Davis in isolation with a mismatch. There are very few players in the world capable of guarding either in isolation. Switching the James/Davis screen requires two of them to avoid the mismatch, as the latter is a more than capable ball-handler who can receive as well as set the screen.
The final recourse for the defensive coach is to simply stuff the paint with help defenders, but doing so leaves 3-point shooters open, and the Lakers shooters have been hitting their shots at respectable rates. It was widely expected to be a terrifying prospect, but actually seeing the James/Davis screen and roll in action is awe-inspiring. It genuinely seems unfair. There is no obvious way to guard it. Laker fans should expect to see a lot of it during the season.
Offensive Rebounding
LeBron James, Anthony Davis, and the shooters surrounding them demand the attention of the defense. Their ability to draw double-teams or help defenders create situations in which the defense is out of position to secure the rebound from a missed shot. The length and athleticism of the Lakers' front line is perfect for taking advantage of these easy opportunities.
For a defense, this can be morale-breaking. Assuming that a defense navigates all of the challenges of defending a James/Davis screen and roll enumerated above, it finds itself unable to complete the possession for sheer inability to put a big enough body on Davis, JaVale McGee, or Dwight Howard to get the rebound. These kinds of plays can be sneakily important, providing a huge boost to the offensive team on key possessions.
Mover-Blocker Sets for the Bench Unit
Mover-Blocker sets are offensive sets that divide the players into two categories; blockers, who set screens, and movers, who cut and look to score using the screens the blockers set. Sets like this can be identified by the basic "wheel" motion the movers use around the blockers as they try to contort the defense, frequently flowing into a screen and roll if no good shot presents itself.
These sets have the merit of creating a lot of action around the court in a short period of time. They also permit a group of players who have particular skills but lack well-rounded or dominant scorers to get open shots.
When James or Davis are on the floor, the offense will obviously be geared around taking advantage of their superlative talent. The bench lineups, however, lack a dominant ball-handling scorer in the mold of Lou Williams or Eric Gordon. The constant action of mover-blocker sets relieve any individual of having to be the primary creator, and could allow players like Kyle Kuzma and Alex Caruso to use their passing skills and also get good looks from off-ball movement, which is an area where both excel.
While it may be hoped that Lakers fans see relatively little basketball this season that doesn't include either LeBron James or Anthony Davis, running mover-blocker sets can help ensure that the offense generates open looks in the absence of their gravity.
Zach Norvell, Jr.
After he was signed to a two-way contract by the Lakers this summer, undrafted two-year Gonzaga guard Zach Norvell, Jr. was given a chance in the preseason to demonstrate what he can do – and he did just that. He displayed a quick release and willingness to shoot from 3 that is encouraging, while shooting a respectable 35.3% from that distance (a number which was deflated by occasionally questionable shot selection.) He showed a great motor and made a couple of defensive plays. Perhaps most encouraging, he showed frequent glimpses of a passing touch that might see him sneaking into the guard rotation for the Lakers this year.
He also flat-out disrespected Jordan Poole, breaking his ankles on two nights in two different arenas, taking Poole's embarrassment on tour.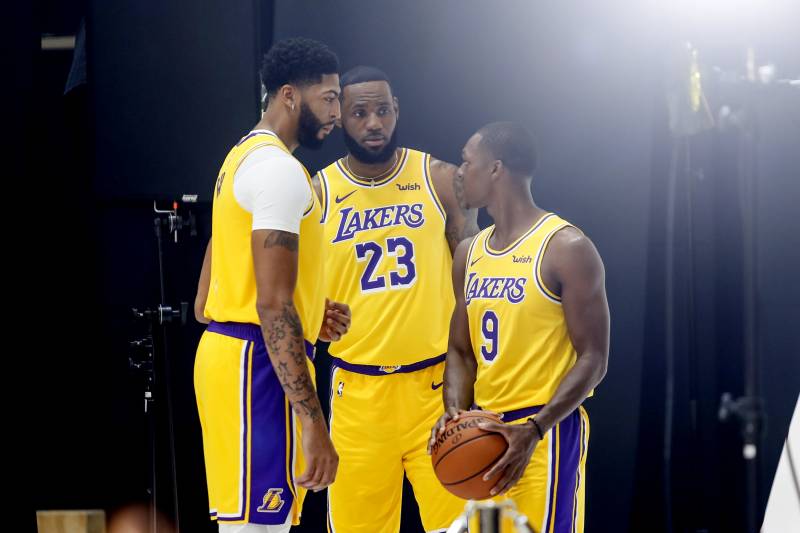 The Bad:
While the above painted a fairly rosy picture of the Lakers' offense thus far, that is not to say that they were perfect. Far from it. In particular, Alex Caruso has been frequently misused on offense during the preseason, the guard rotations have been questionable, and Rajon Rondo's presence on the court has created spacing problems, again.
Alex Caruso's Utilisation
Caruso has been one of the more perplexing players of this preseason for the Lakers. He played phenomenally at the end of last year and over the summer Lakers Twitter™ was prepared to insert him into the starting lineup. Several strengths from his run last year have indeed carried over to the preseason – he shot about league average from 3 on a small sample, played energetic defense, and again demonstrated his playmaking chops.
That being said, the situations in which he has been used in the preseason have the effect of highlighting his deficiencies from last season, which remain. He likes to go for the big play and has a tendency to over-penetrate and both of those inclinations contribute to his being turnover prone and frequently having his shots blocked. There is something to be said for giving him a chance to display the skills he lacked last year during the preseason, but the early returns in this regard have not been great.
Playing him with such high frequency in screen and roll situations, where he has the ball with momentum heading toward the basket, encourages him to indulge in his worst impulses. He doesn't yet have a reliable floater or mid range jumper, so defenders chasing him over the screen and off the three point line can funnel him to the defending big at the rim. He rightly trusts his athleticism to help him finish, but he simply isn't skilled enough to beat multiple defenders or elite rim protectors consistently.
Caruso's cutting ability, shooting, and skill reading the defense make it ideal to use him mostly off the ball in offensive situations, but the lack of trustworthy ball-handlers on the bench unit have made it difficult to keep the ball out of his hands when he's on the floor. One of the encouraging things about seeing the Lakers run mover-blocker sets with the bench unit is that it is an offense that would permit Caruso to distribute his time between off-ball actions and making things happen with the ball. Whether it's through that avenue or simply playing him more frequently alongside Rondo, if the Lakers want Caruso's best they need to do a better job of putting him in a position to succeed.
Letting Rondo's Defender Sag
Let this be said for Rajon Rondo: during this preseason he has been significantly better than he was for any three-game stretch last season. He seems less congenitally averse to shooting threes and is making a high percentage of them. Yet defenses continue to sag off of him dramatically, and will continue to do so unless he can sustain his high percentage on high volume for several months.
In the first game against the Warriors, Vogel had Rondo frequently screening for shooters on the weak side when he didn't have the ball in the offense. Doing so takes advantage of his defender sagging toward the paint, because when Rondo screens there is no one to switch onto the shooter. While it would be better for Rondo's defender to be respecting his shot and clearing away from the paint, at least this screening scheme punishes the defense for moving so dramatically away from him.
The Lakers have used Rondo in this way less frequently since that first game, and accordingly the offense is less able to penetrate easily when he is on the floor. His defense at this stage of his career is negligible, so any tactic that reduces his offensive effectiveness so dramatically presents a serious problem for keeping him on the floor at all. Unless or until defenses are forced to respect Rondo's three point shot, the Lakers need to have him active as a perimeter screener or their offense will run the risk of stagnating.
A Questionable Guard Rotation
Avery Bradley, Kentavious Caldwell-Pope, and Rajon Rondo have all demonstrated that they bring something to the table. There have been problems, though, with playing two of them at the same time. None of them are particularly big and they have difficulty with larger, athletic defenders. Bradley and Caldwell-Pope are relatively poor ball-handlers and inconsistent distributors.
Rondo and Caldwell-Pope play well enough together on offense but are too small to share the floor on defense against NBA size. It is questionable that Rondo and Bradley can space the floor well enough to keep the offense from clogging the paint.
When there are so many problems with playing these guys together but they collectively take up a large proportion of the guard minutes, that is a problem. Eventually, with guys like Caruso, Norvell, and Quinn Cook nipping at their heels one or both of them will have to find their minutes significantly cut back.
The Verdict:
As is to be expected in preseason, there is a lot the Lakers will need to clean up during the regular season before the playoffs arrive. Some players will need to have their roles or usage adjusted, and Frank Vogel will need to stay creative in his approach as defenses try to adapt to what this team can do.
That being said, the ingredients for an offensive juggernaut are here, and the recipe for utilizing them is fairly straightforward. The Lakers' gameplan is just easier to execute than many other teams' because their stars have such compatible skill sets, and lest we forget Kyle Kuzma has yet to play a minute this year. If the problems mentioned above are still problems at the All-Star break, there will be concerns about this team in a playoff setting. If they are addressed, the Lakers will be incredibly difficult to stop.
By Phil Sizemore (@phsizemore)
---
Lakers Fanclub UK are proud affiliate partners of Fanatics UK and the NBA Store Europe. We do possess unique promotional codes for both websites that can offer our readers and followers 10% off site-wide through the following weblinks.
Fanatics UK: http://tinyurl.com/y4vjv32b and enter the promotional code LAKERSUK10 at checkout to receive 10% off. This is not limited to just NBA apparel, but the discount can be used on MLB, NFL, NHL, Football/Soccer gear also!
NBA Store Europe: http://tinyurl.com/y585vud9 and enter the promotional code LAKERSUK10 at checkout. This is not limited to Lakers gear, the discount is available site-wide on any product you wish to purchase!