Here is part 2 of Lakers Fanclub UK's 2019/20 player previews. In this, all of our contributors collaborate to bring you round-ups on the forwards and big men on the Los Angeles Lakers' roster for the upcoming season. If you missed part 1 on the guards, you can find it here.
Anyway, let's keep it short and simple, and dive straight in.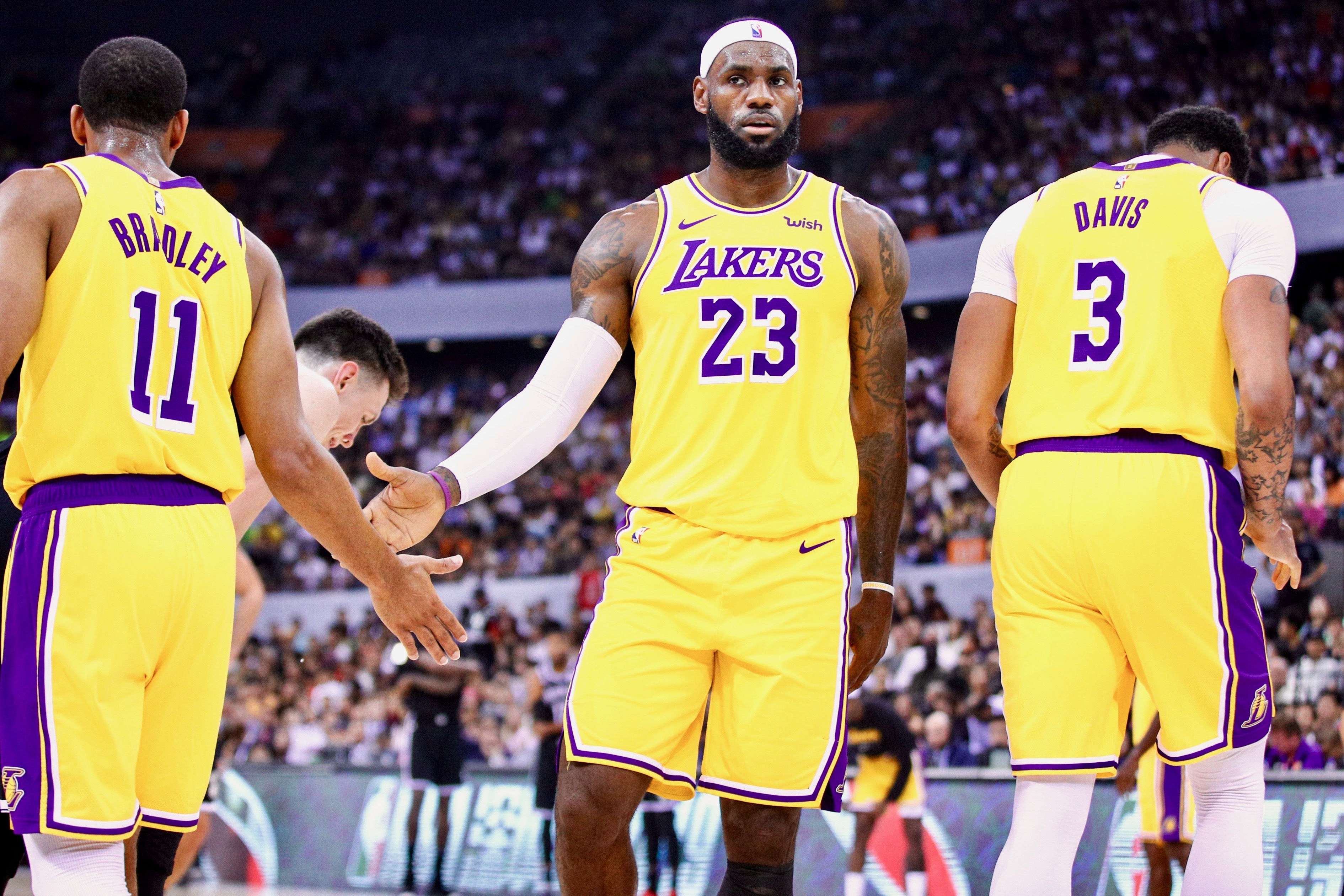 LeBron James (Ashley Hooper, @Hoopdream_)
A 4-time MVP. 3-time NBA Champion. 3-time NBA Finals MVP. 15-time NBA All-Star. LeBron James needs absolutely no introduction to any basketball fan. 
At 34-years old, and off the back of a disappointing season, James will be going into the new campaign looking to prove any doubters wrong. ESPN ranked him as the third-best player in the league this season, with only current MVP Giannis Antetokounmpo, and NBA Champion Kawhi Leonard, ranking higher.
James is not used to losing out to anybody, and the off-season workouts that circulated on social media gave us an insight into his mindset going into his 17th season. He is looking lean, hungry, and ready to challenge for another championship.
Expectations are high this year, there's no doubt about it. After missing 27 games through injury last season, and also missing out on the playoffs for the first time since 2005, James will be well-rested. Arguably more than he has been in the past 14-years. A well-rested LeBron James is something that the NBA hasn't seen in a long time, if ever.
He is used to carrying teams to the playoffs and beyond, but now he has superstar Anthony Davis alongside him. Arguably the best, most talented teammate he has ever had. He will surely be looking share some of that regular season load with Davis and prepare for the playoff run that the Lakers franchise and fan-base desire.
Father time is undefeated, but if anyone can defeat the odds, it's LeBron James. 
2018/19 Stats (Los Angeles Lakers): 55 GP, 27.4 PTS, 8.3 AST, 8.5 REB, 51% FG
Anthony Davis (Jonathan Kiernan, @KiernanJonathan)
After almost a year of pursuing the former New Orleans Pelicans superstar, the Lakers got their man in Anthony Davis. At the time of the trade, for some fans, it was debatable whether the cost was worth it. Looking back, after seeing Davis in pre-season, it definitely was.
The Lakers gave up a King's ransom to land the perennial MVP candidate. The trade included Lonzo Ball, Brandon Ingram, Josh Hart, the 4th overall pick in the 2019 NBA draft, as well as future assets, and pick swaps.  This may seem a lot, but when someone of Davis' caliber becomes available, you go after that player, 100%.
It's easy to see why the purple and gold went after Davis. What is not to love. Easily one of the most physically gifted players of his generation, he has made a career out of shattering records previously held by All-Time greats. At 26-years old, he is already in the conversation for potentially the best Power Forward in NBA history. He must be doing something right. 
Davis has otherworldly athleticism, an enormous wingspan, a sweet array of post moves, and the ability to stretch the floor. All of which pale in comparison to his truly elite defense. To call him one of the most physically dominant defenders in recent NBA history is an understatement. He blocks and alters shots at the rim at a truly special level.
Last season wasn't the best season of Davis' career as he and the Pelicans front office did not see eye-to-eye leading to his trade request. However, when he was on the floor he was the elite performer we have come to love.
The Lakers can expect big things from Anthony Davis this coming season. With LeBron James seemingly willing to hand the keys over to him, it wouldn't shock fans if Davis was either a Defensive Player of the Year or an MVP candidate this season.
2018-19 Stats (New Orleans Pelicans): 56 GP, 25.9 PTS, 12 REB, 3.9 AST, 1.6 STL, 2.4 BLK, 51% FG
Kyle Kuzma (Srikar Devireddy, @srikardr999)
Coming into the 2019/20 season, Kyle Kuzma's role on the Lakers has drastically changed. For the past two years, Kuzma has been most known for his eccentric scoring. Scoring from just about anywhere. However, he is now being entrusted with the role of spacing the floor from a '3-and-D' standpoint.
Similar to a Klay Thompson, or lesser down the talent spectrum, a Buddy Hield, Kuzma's transition into this role holds a lot of risk. He has not been a trusted 3-point shooter throughout his NBA career so far. He did shoot at a respectable 37% rate during his rookie year, but that percentage fell to 30% this past season. This is a concerning statistic.
If Kuzma cannot shoot consistently, he will find trouble contributing to the team. He does excel in getting to the rim and finishing through traffic, but the presence of Anthony Davis and LeBron James will give him little reason to have to do that on a regular basis. Spacing the floor and giving Davis one-on-one match-ups is likely the best offensive strategy that the Lakers can run.
However, not all is bad for Kuzma. There were sparks last season where he was able to light the floor from 3-point range. He is confident taking the 3-ball, as he averages approximately 6 attempts per game. The potential is really there for it to fall.
Kuzma has made it a statement to work on his 3-point shot over the off-season with shooting coach, Chris Matthews (@LethalShooter). Also, the snippets of play that we were able to see from the Team USA games over the past summer showed us Kuzma's improved efficiency from 3-point range. It was really promising to see, alongside his added effort on the defensive end of the ball.
In summary, Kyle Kuzma has the ability to be a significant piece to this Lakers roster. One that can be a role player but also be the main scorer against certain match-ups. If he can improve and maintain a consistent shot from range, with a high IQ, along with hard defense, he really does hold the potential to be the Lakers' 3rd star.
2018/19 Stats (Los Angeles Lakers): 18.7 PTS, 5.5 REB, 2.5 AST, 45% FG, 30% 3P
Jared Dudley (Jonathan Kiernan, @KiernanJonathan)
One of the more unusual signings of the Lakers offseason, Jared Dudley comes to the Lakers after a relatively successful stint with the Brooklyn Nets. In a nutshell, Dudley fits a need. He can shoot the ball from 3, he can defend, and he is a veteran presence who could be useful during a playoff run.
However, with Kyle Kuzma, LeBron James, and Anthony Davis all capable of playing the Power Forward positions, it kind of makes having Dudley on the roster slightly counterproductive.
After a season in which he put up some pedestrian numbers for the Nets, Dudley was still able to offer minutes in crunch time and be a valued member of the roster. While he is capable of playing the 3, at the 34-years of age, he isn't exactly going to be staying in front of many Small Forwards this season.
While it seems like we are painting the Dudley signing in a bad light, we are still very happy about the signing. By no means is he a bad player, he is a versatile veteran who can play a role for the purple and gold.
During an NBA season, there are going to be plenty of injuries, trials, and tribulations. On some nights the best players on the team will need to rest up for the playoff run and on them nights, Dudley is going to be a heavily used player. The role in which he might be asked to play for the team could test his patience though. Hopefully he has the mental fortitude to play a role and win a championship.
Jared Dudley is a very capable player and fingers crossed he can play a larger role than expected. 
2018-19 Stats (Brooklyn Nets): 4.9 PTS, 2.6 REB, 1.4 AST, 42.3% FG
Talen Horton-Tucker (Matt Evans, @mattyyyevans)
With the 46th overall pick in the 2019 NBA Draft, the Lakers selected 18-year-old, Talen Horton-Tucker. The pick used to acquire him was from the Orlando Magic, in exchange for a 2020 second round pick and cash considerations.
Horton-Tucker looks to be a unique talent. Whilst he only stands at 6-foot-4, he possesses a large frame, weighing 238-pounds. He also has a 7-foot-1 wingspan. Representing the Iowa State Cyclones for just a single season in college, he averaged 11.8 points, 4.9 rebounds, 2.3 assists, and 1.3 steals, through 35 games. Before making the leap to the NBA.
Not a lot can be read into on Horton-Tucker at present time. He has been out for the entirety of pre-season with a stress reaction in his foot. This injury kept him out of Summer League play too.
From his time in college, he is a versatile player, to say the least. He can work out on the perimeter, both offensively and defensively, across both guard positions and as a small forward. He is known to act as a stretch 4 from time-to-time as well. He can handle the ball, finish at the rim, and crash the boards. He doesn't hold a reputation of a pure shooter though, that is a facet of his game that needs some work.
He's certainly a project. He may receive time in the G-League to work on his craft, but he looks an interesting player with a different skill-set to the rest of the roster.
2018/19 Stats (Iowa State Cyclones): 11.8 PTS, 4.9 REB, 2.3 AST, 1.3 STL
Kostas Antetokounmpo (Matt Evans, @mattyyyevans)
Filling the second 2-way contract on the roster is Antetokounmpo. Not Giannis, but his younger brother Kostas. The 21-year-old was claimed off waivers back in July, following his release from the Dallas Mavericks, who selected him with the 60th pick in 2018 NBA Draft.
Antetokounmpo will split his time between the G-League and the NBA, alongside 2-way player, Zach Norvell Jr. His NBA opportunities will be in call-ups of up to 45 days during the season.
He has spent an average of 5.5 minutes in 2 games, with the Mavericks, on an NBA court. Instead, the majority of his time was spent in the G-League last season with the Texas Legends. Where he averaged 10.6 points, 6.2 rebounds, 1 steal, and 1.3 blocks, on 52% shooting. He did feature in the Mavericks' 2019 Summer League team however, posting averages of 5.8 points and 2.8 rebounds, in 13 minutes.
Standing at 6-foot-10, Kostas Antetokounmpo is a long, athletic forward who, like his MVP brother, relishes getting to the rim and finishing. In addition, he possesses an incredible 7-foot-2 wingspan. But he does lack muscle, instead hosting a slim, wiry 195-pound frame. He rebounds well at the moment, but he could be a serious threat with more weight on board.
Like Talen Horton-Tucker, Antetokounmpo is a project. However, he is a project that opens up a relationship with the family ahead of Giannis' pending free-agency *wink wink*.
2018/19 Stats (Texas Legends): 10.6 PTS, 6.2 REB, 1 STL, 1.3 BLK, 52% FG
JaVale McGee (Frank Gaulden, @FrankGaulden)
When recently acquired star, Anthony Davis, made clear at his introductory press conference that he did not want to play the 5, the value for a true center went sky-high within the Lakers organisation.
Especially as they seek to do whatever it takes to appease Davis into signing an extension after the 2019/20 season. This makes the potential impact of JaVale McGee a huge one. Additionally, while many expected DeMarcus Cousins to contribute substantially at the center position, his off-season season-ending injury made the Lakers desperate at the center position.
As a result, it is clear that McGee may be the leader in the clubhouse to be the Lakers' starting center. 2018 turned out to be an uneven, but successful, campaign for him. He averaged 12 points per game (4 points above his career average), 7.5 rebounds (2.4 above his career average), and 2 blocks (0.4 above his career average).
While his season dipped later in December and in the first several weeks of 2019, due to pneumonia, the season sandwiched around this time represented a break-out season. He was given opportunities he has rarely had throughout his career so far, through extended playing time. Last season saw him playing more minutes per game (22.3) than his career average (17.4).
With Cousins out for the season, the continuity of having McGee as starting center for the Lakers appears certain heading into the season. Given the support around him in LeBron James, Anthony Davis, and a bevy of outside shooters headlined by Danny Green, JeVale McGee has an opportunity to put up season stats more impressive than anything to date in his career.
2018-19 Stats (Los Angeles Lakers): 12 PTS, 7.5 REB, 2 BLK, 62.4% FG
Dwight Howard (Matt Evans, @mattyyyevans)
Whoever would have thought that Dwight Howard would be rocking the purple and gold again? It still blows my mind!
This all stems from his, unsuccessful, first tenure with the franchise. As many fans remember, Howard was signed via a huge trade with the Orlando Magic back in the 2012/13 season. Playing at his unstoppable peak, the plan was to slot him in alongside Kobe Bryant, Steve Nash, and Pau Gasol, to form a super-team that would undoubtedly lift championship #17.
That didn't happen. Instead the "Dwightmare" season did. To put it simply, serious injuries occurred to Bryant and Nash, Gasol was battling injuries also, and the team was blown out in the first round of the playoffs at the hands of the San Antonio Spurs. To make it worse, Howard then jumped shipped and joined the Houston Rockets after the season concluded.
Anyway, he's back and it appears that he's had a huge change in attitude. He's lost 25 pounds and he seems to understand that he isn't the superstar of old, and that all the issues that have occurred throughout his career may have stemmed from himself. Additionally, he has stated that he wants to be part of a winning team, and that he will accept any role to do so.
He will battle against JaVale McGee for center minutes, but Howard hasn't suggested that it is a battle, instead that they are both there to make each other better and to be called upon when needed. Impressive words, right?
Long story short. He's on a non-guaranteed deal, he can be cut at any point if need be. Risk-free, check. He still holds talent, undoubtedly, and he fills a void as a result of DeMarcus Cousins' injury. He adds to the center rotation, check. He's got a refreshing new attitude and won't damage the team with his ego, che…. we'll wait to see when times get tough with that one.
If he can be even a fraction of his former-self, he will be huge for the big man rotation this season. As Dwight Howard has been quoting on Instagram, it's all about #redemption. Just defend and rebound Dwight, defend and rebound.
---
Lakers Fanclub UK are proud affiliate partners of Fanatics UK and the NBA Store Europe. We do possess unique promotional codes for both websites that can offer our readers and followers 10% off site-wide through the following weblinks.
Fanatics UK: http://tinyurl.com/y4vjv32b and enter the promotional code LAKERSUK10 at checkout to receive 10% off. This is not limited to just NBA apparel, but the discount can be used on MLB, NFL, NHL, Football/Soccer gear also!
NBA Store Europe: http://tinyurl.com/y585vud9 and enter the promotional code LAKERSUK10 at checkout. This is not limited to Lakers gear, the discount is available site-wide on any product you wish to purchase!