Many are placing the 2019/20 Los Angeles Lakers as one of the deepest teams in the NBA, if not the deepest. Praising the versatility and talent that Rob Pelinka and Co. have assembled this past summer.
It's no secret that the Lakers have their sights set high this season, and rightly so. The Western Conference Finals appear to be the minimum expectation among fans, with the players truly believing that they can lift the 2020 NBA Championship come the end of the season.
The roster constructed for this season is vastly different to last seasons. Lonzo Ball, Brandon Ingram, and Josh Hart were shipped to the New Orleans Pelicans in the blockbuster trade that saw superstar Anthony Davis get granted his Los Angeles wish. Whilst, young bench players Moritz Wagner, Jemerrio Jones, and Isaac Bonga were sent to the Washington Wizards to get the Lakers-Pelicans trade over the line.
At one point, amazingly, the Lakers only had LeBron James and Kyle Kuzma on the books, while the Davis trade was awaiting completion.
With the 2019/20 NBA season now fast approaching, the contributors of Lakers Fanclub UK have compiled player previews for each name currently on the roster. New and returning. We start the preview with the guards, the players that can cover both the Point Guard position, and the Shooting Guard position.
Danny Green (Srikar Devireddy, @srikardr999)
Danny Green is coming straight off of the 2nd NBA Finals win of his career, with the Toronto Raptors. He was recruited by the Lakers for his championship and veteran mindset, his defense, and also his ability to shoot the ball.
Green has been a prolific 3-point shooter throughout his time in the NBA, one of the best in the league in fact. Last season, he shot 46% on 5.4 attempts per game. Percentage wise, Green was second in the league, behind 3-point contest champion, Joe Harris of the Brooklyn Nets.
Green is undoubtedly going to be an important part of this Lakers team. His ability to stretch the floor is nearly unrivaled. Concerns that may be found in him, is his ability to create his own shot, or play-make for others. Whilst he is a willing passer, he does not have the ball handling skills and court vision to be a true play-maker.
However, this should not be a real problem this year, as Green is playing alongside LeBron James, possibly the best play-maker in the league right now, and Anthony Davis, a player who can force defenses to collapse into the paint, thus creating space for outside shooters. Finding an open 3 for Green should not be difficult in the slightest.
In addition, age is a minor concern. Coming into the 2019/20 season, Green is 32-years old. As a shooter, he will not have to be victim to the physically tolling tasks of getting to the rim, or posting up, which makes age a less important factor when analysing his game. Look forward to seeing Danny Green light it up from 3-point range this year, especially as he plays with LeBron James.
2018/19 Stats (Toronto Raptors): 10.3 PTS, 4 REB, 1.6 AST, 46% FG, 45% 3P
Rajon Rondo (Srikar Devireddy, @srikardr999)
Rajon Rondo is one of the most interesting players on this roster. Rondo's main skill is to be a ball dominant guard who can create opportunities for his teammates. We saw that he still has that ability from last season, in which when playing without LeBron James, he was the primary ball handler on the team.
Although, during that stretch without James, the Lakers were failing to win games. Rondo was able to fill the stat sheets, but he was not always benefiting the team. In fact, he was among the league's worst in plus/minus as he was constantly outplayed by his match-up. Rondo certainly is not the defender he once was, opposing younger point guards are able to blow past him and shoot at will.
Rondo is also is a very streaky shooter. There were some nights where he looked like Steph Curry, being able to shoot the 3 efficiently and effectively. But, on the other hand, there were those nights where he seemed to be able to hit nothing, just tossing up shots for the sake of it.
Not all is bad news with Rajon Rondo though. His play-making can allow for more opportunities when LeBron James is not on the floor, and if he learns to develop a more consistent jumper, he can help space the floor. Rondo is a Hall-of-Fame worthy player, his accolades up until this point are numerous. However, the question remains if he can help this team.
If he makes the right adjustments to this game, he can definitely be a big part of the Lakers' success moving forward.
2018/19 Stats (Los Angeles Lakers): 46 GP, 9.2 PTS, 5.3 REB, 8 AST
Avery Bradley (Jonathan Kiernan, @KiernanJonathan)
One of the more interesting pickups by the purple and gold this off-season. Avery Bradley joins the Lakers after several up-and-down seasons, which have led to him finding a new home in Los Angeles.
During his time with the Boston Celtics, Bradley was considered one of the best perimeter defenders in the NBA, capable of locking up both guard positions, playing ruthless and hard-nosed defense, night-in-night-out. During this period, Bradley drew comparisons to the Glove himself Gary Payton, who was renowned for his in your face defense, and his ability to force turnovers. Upon comparison, you can see why the two guards were linked together.
After leaving the Celtics, Bradley moved onto the Detroit Pistons where he was able to continue a similar level of play to that of his final years in Boston. However, upon moving to the Los Angeles Clippers in 2018, his stats went off a cliff going from 15.0 points per game, to 9.2. His steals also took a hit during his stint with the Clippers.
For the latter part of last season, he was with the Memphis Grizzlies. During his time there, he was able to find a rich vein of form which led to him averaging 16.1 points in 14 games, on 46% shooting.
So what can Avery Bradley offer the Lakers this coming season? If he can recapture his previous form both on defense and from the 3-point line then the Lakers will be getting a very valuable contributor. With Bradley's ability to lock down both guard positions, as well as hit the 3-ball with some consistency, the purple and gold could have their starting point guard.
With Bradley's weight loss during the off-season, and a renewed focus, a Gary Payton-esque player could feature this season.
2018-19 Stats (Los Angeles Clippers): 49 GP, 8.2 PTS, 2.7 REB, 2 AST, 38% FG. With the Memphis Grizzlies: 14 GP, 16.1 PTS, 2.7 REB, 2 AST, 46% FG, 38% 3P
Alex Caruso (Frank Gaulden, @FrankGaulden)
Alex Caruso had a break-out season of sorts in 2018 despite only playing 25 games for the Lakers. Prior to that, his career has been mainly developed with the South Bay Lakers of the G-League, and spot play in the NBA. However, in the 25 games played last year, Caruso shot a blistering 48% from 3-point range, playing an efficient style which became much needed after Lonzo Ball suffered a season-ending injury.
His defense (which the analytics generally view as better than average) was also a solid improvement over what Rajon Rondo was able to provide in his place. This led to the Lakers agreeing to a 2-year, $5.5 million contract this past off-season. His summer weight lifting regimen was so impressive, Caruso received a "random" drug test just after pictures of his sculpted body received social media notoriety.
It is important to understand that last season's 48% 3-point clip will likely not be duplicated, as most of his games played came at a point in the season where the teams the Lakers were playing were not exactly trying their hardest to win. That being said, his career 3-point percentage is 39.8% which is solid and more likely to be repeatable. Such an outside threat would be welcome given the post presence provided by LeBron James, Anthony Davis, and JaVale McGee.
His offensive and defensive potential should, on paper, put him in the running to be the Lakers' starting point guard. However, the politics in play to start a player like Rondo, or new acquisition Avery Bradley, may prove too strong for Caruso to get a fair shot at the position, at least to start the season. Accordingly, it is likely he will have to be content coming off of the bench with inconsistent minutes unless injuries force the hand of the current coaching staff to provide him a larger role.
2018-19 Stats (Los Angeles Lakers): 25 GP, 9.2 PTS, 3.1 AST, 48% 3P
Kentavious Caldwell Pope (Ashley Hooper, @Hoopdream_)
The 2019/20 season will be Kentavious Caldwell Pope's 3rd season with the Lakers. This makes him one of only 6 players on the roster who have previously stepped foot on the court as a member of the purple and gold.
People have questioned Caldwell-Pope both on-and-off the court in the 2 seasons he has been in Los Angeles, however, he does bring many solid attributes to the roster. Firstly, he is a good 3-point shooter, something that the Lakers have notoriously lacked in recent years. He has recently been working alongside renowned shooting coach Chris Matthews (@LethalShooter).
When in rhythm Caldwell-Pope can be a constant threat from deep, and with Anthony Davis now on the team, you would imagine that there are now going to be more open looks going around. Also a solid defender, his work rate and size lend themselves to being strong in well-worked defensive schemes. In actual fact, his defense has not gone unnoticed in his career, having received a vote for the All-Defensive 2nd team in his 2016/17 season with the Detroit Pistons.
Overall, Kentavious Caldwell-Pope isn't going to be a highlight reel player, or an individual game-winning star. But he can be a very important piece from a defensive and shooting standpoint. If he can find the defensive form from his Detroit Piston days, a 3 guard rotation of Danny Green, Avery Bradley, and himself, could become a defensive nightmare for the opposition.
2018/19 Stats (Los Angeles Lakers): 11.9 PTS, 2.9 RPG, 1.3 AST, 43% FG, 34.7% 3P
Quinn Cook (Ashley Hooper, @Hoopdream_)
Undrafted out of Duke back in 2015, Quinn Cook has had to work very hard to prove his worth in the NBA. It would appear that Cook's hard work has paid off dramatically after the 2018 NBA Champion signed a 2-year, $6 million deal with the Lakers this off-season.
After what can only be described as a rough start to his NBA career, Cook showed his worth playing for the Canton Charge in the then, NBA D-League, earning him short-term deals with both the Dallas Mavericks and the New Orleans Pelicans. It was his 2-way deal he signed with the Golden State Warriors in October 2017 that really propelled his career forward.
Over his two seasons in Golden State, Cook played in what is described as one of the best teams ever assembled. He averaged 16.8 minutes and 7.7 points in his 107 games for the Warriors. This included 6 finals appearances last season versus the Toronto Raptors. Cook sure has experience on the biggest stage but can he transfer that form into what is sure to be a very different setting in Los Angeles?
As a career 41% 3-point shooter, Quinn Cook will be battling it out for key minutes against the much-loved guard, Alex Caruso. But if Cook can continue his upward trajectory and shoot the ball as well as he has done previously, then there is no reason he cannot be a valuable role player for the Lakers this season.
2018/19 Stats (Golden State Warriors): 14.3 MPG, 6.9 PTS, 1.6 AST, 2.1 REB, 40.5% 3P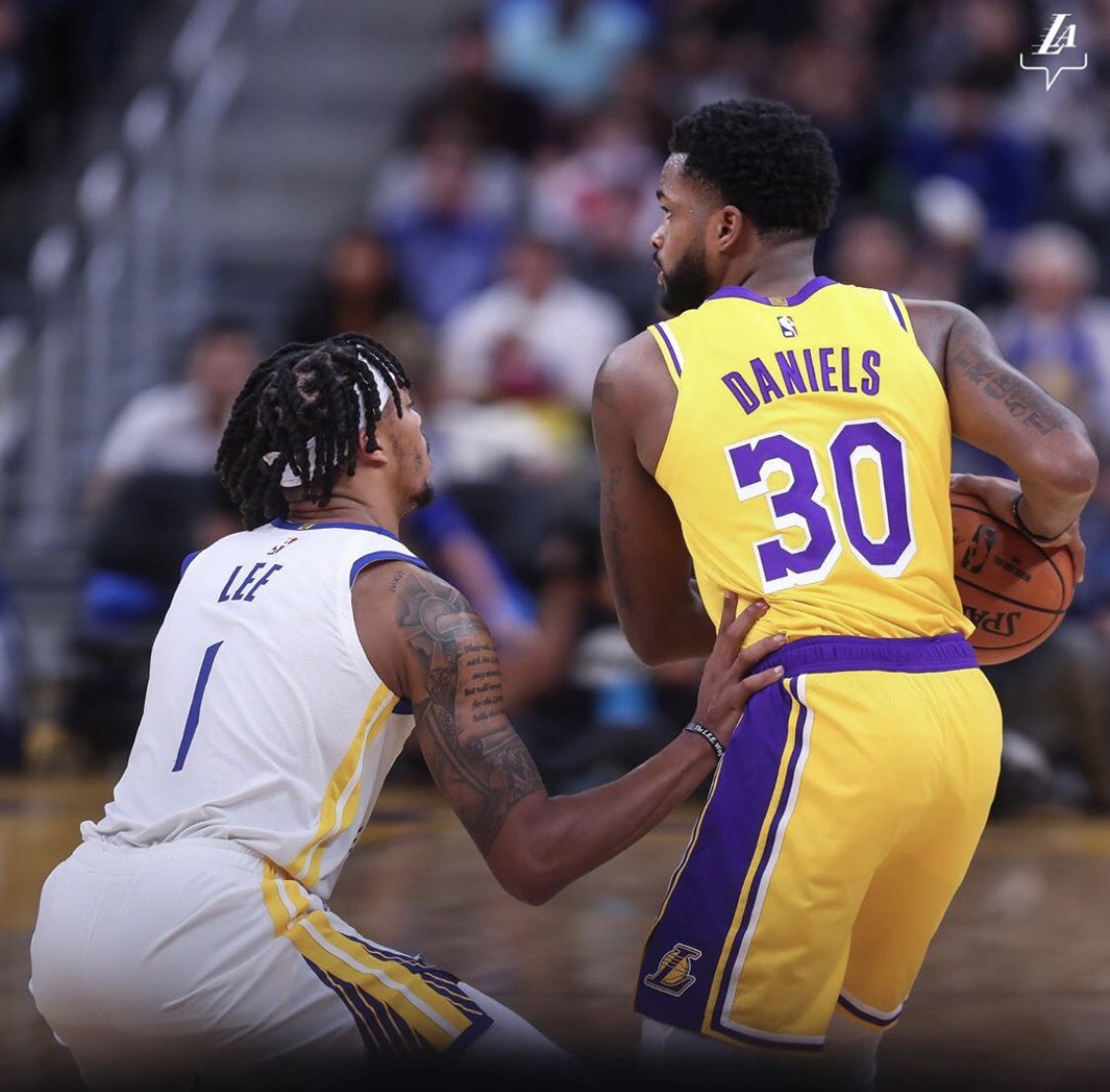 Troy Daniels (Frank Gaulden, @FrankGaulden)
The Lakers signed Troy Daniels as their very first acquisition while awaiting Kawhi Leonard's fateful free agency decision. The point of bringing in Daniels was simple: floor spacing. Laker critics were tough on the Lakers in 2018 for their lack of outside shooting capabilities, the front office decided to deal with this deficiency head-on.
Daniels is a career 40% 3-point shooter, which means that on the offensive side of the floor, he can open up things for the LeBron James and Anthony Davis and provide a scoring punch of his own. As recently as 2017 with the Phoenix Suns, Daniels, in 79 games, averaged almost 9 points on 40% 3-point shooting.
But why has Daniels been on 5 teams in 6 seasons? The answer is simple. While he can shoot the lights out, the statistics support the fact that shooting tends to be his only real contribution. His career average for rebounds is at 1.3 per game. His career average in assists is 0.6 per game.
The analytics also say that his defense is poor. Because of the one dimensional nature of his game, Daniels has been mentioned by Lakers analysts as potentially being a buy-out candidate should they need to free up an extra roster spot during the upcoming season. As a result, Troy Daniels is expected to get situational and spot minutes for the Lakers this season, especially in situations where the team needs as many shooters on the floor as possible, such as at the end of quarters or end of game type scenarios.
2018-19 Stats (Phoenix Suns): 14.9 MIN, 6.2 PTS, 1.4 REB, 41% FG, 38% 3P
Zach Norvell Jr. (Matt Evans, @mattyyyevans)
As the Lakers attempted to reinstate some youth into the roster, following the entire young core (except Kyle Kuzma) being off-loaded to the Pelicans and Wizards in the Anthony Davis trade, the purple and gold picked up undrafted rookie, Zach Norvell Jr.
21-year-old Norvell Jr came through the collegiate ranks at Gonzaga University, where he represented the Bulldogs for technically two-seasons. He did undergo leg surgery before arriving at the university, therefore his first season was red-shirted allowing for recovery. During his red-shirt freshman season, he received attention as being a breakout star of the 2018 NCAA Tournament, scoring 21.5 points per game during the first 2 games.
In his final season at Gonzaga, Norvell Jr posted averages of 14.9 points, 4.3 rebounds, 3.1 assists, and 1.3 steals, through 37 games (36 starts). This earned him 2018-19 All-West Coast Conference First Team honours. From here, he declared for the 2019 NBA Draft. But he fell undrafted.
Being touted as one of the top undrafted players, Norvell Jr was signed by the Lakers on July 1, on a 2-way contract, immediately he was assigned to the team's Summer League roster. His performances were streaky, over the course of 7 games (3 in Sacramento, 4 in Las Vegas) he only shot at a 36% clip from the field and averaged 12 points per game. However, break-out performances against the Golden State Warriors (20 pts, 70% FG) and a game-winner against the Sacramento Kings kept eyes lingering on the promising talent.
Zach Norvell Jr will split his time between the NBA and the G-League, where he should tear up the latter. But in the NBA he does hold value in his ability to space the floor and get hot from range. Additionally, as a 21-year-old rookie he holds a strong frame and could contribute on the defensive end. He's certainly an intriguing talent, and adds some youth to the roster, let's see what he's got.
2018-19 Stats (Gonzaga Bulldogs): 37 GP, 14.9 PTS, 4.3 REB, 3.1 AST, 1.3 STL
---
The second part of our player preview series focuses on the Lakers' forwards and big men. You can find it here. Much like this article, our contributors have collaborated to provide a write up of each player currently on the roster that covers the Small Forward, Power Forward, and Center positions.
---
Lakers Fanclub UK are proud affiliate partners of Fanatics UK and the NBA Store Europe. We do possess unique promotional codes for both websites that can offer our readers and followers 10% off site-wide through the following weblinks.
Fanatics UK: http://tinyurl.com/y4vjv32b and enter the promotional code LAKERSUK10 at checkout to receive 10% off. This is not limited to just NBA apparel, but the discount can be used on MLB, NFL, NHL, Football/Soccer gear also!
NBA Store Europe: http://tinyurl.com/y585vud9 and enter the promotional code LAKERSUK10 at checkout. This is not limited to Lakers gear, the discount is available site-wide on any product you wish to purchase!