It has been a remarkable off-season for the Los Angeles Lakers, an off-season of key reinforcements within the organisation, and most importantly, a clear plan and vision has been developed for this ball club moving forward. The Lakers wasted no time in constructing their ideal roster to challenge for the Larry O'Brien Championship trophy.
Marquee player, Anthony Davis, a well-renowned Power Forward who during last season requested an exit from the New Orleans Pelicans finally got his wish. The Lakers made their move and Davis was part of a mega trade deal which saw multiple young players, along with future draft assets move to New Orleans in return.
Since cross-city rivals the Los Angeles Clippers acquired current Finals MVP and 2019 NBA Champion, Kawhi Leonard, alongside Paul George, there has been a large amount of discussion on which team has the better, or more dominant, duo.
LeBron James and Anthony Davis' games complement each other so well, thus the argument is definitely there to swing the discussion in the direction of the Lakers duo. Davis will be dominant in the paint from an offensive and defensive standpoint, whilst James is most-likely the best play-maker in the NBA at present time. Now, James is surround by shooters to take advantage of his abilities.
Leonard and George of the Clippers do nick the debate from a defensive standpoint, most can agree with that. But the NBA has turned into such an offensive shoot-out night-in-night-out, in recent years. It might well be the offensive capabilities of each duo that results in one overthrowing the other, in a potential Western Conference Finals match-up. Health is an important factor too, obviously.
Fans across the association are heavily fixed into pre-season rituals. But as the regular season is now fast approaching, one significant question that has been lingering around the mouths of every Laker fan is; "what will our starting 5 be?".
From watching and observing Frank Vogel's interviews at training camp, he was asked a variety of questions regarding team rotation, practical drills, and key defensive partnerships. This roster will be heavily rotated, simply due to load management. James and Davis will sit at the front of this rest method throughout the 82-game regular season.
During recent interviews Vogel has stated "We're gonna use a lot of lineups this year". Once healthy, a potential line-up that Laker fans expect to see is; LeBron James (PG), Danny Green (SG), Kyle Kuzma (SF), Anthony Davis (PF), and JaVale McGee (C). But Vogel has repeatedly stressed on his vision to make sure that the Lakers are versatile for the upcoming campaign.
The newly constructed roster has a variety of setups which can be dangerous. We could potentially see two or three lineups for the Lakers this season.
"Just getting different looks, let the guys get familiar with each other". This was in response to a question regarding the initial setups for defensive tactical drills. Vogel went on to give a more detailed response but also followed up on his reasoning for experimenting with the line-ups by stating that he will discover which personnel can consistently work with each other, over the course of a long, stretched-out season.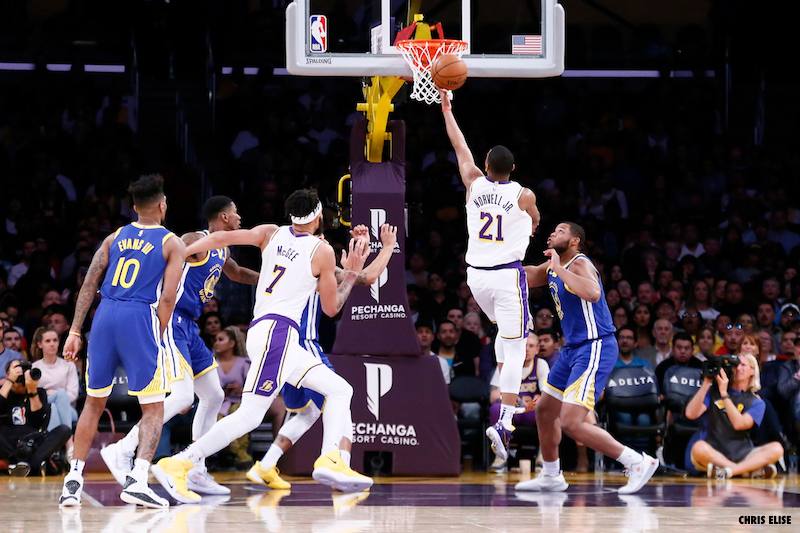 Who are the key rotation players for the Lakers this season?
With many brand new additions to the roster, there are now multiple players which can have an impact to this team. Players like Quinn Cook, a well established spot-up shooter who has claimed NBA glory with the Golden State Warriors in 2018, as a role/impact player off the bench.
Over the course of his short career so far, Cook is a 40% 3-point shooter. This will be very important as for years the purple and gold have been poor from a shooting beyond the arc standpoint. New additions Jared Dudley, Troy Daniels, and 2-way guard, Zach Norvell Jr should be able to contribute in this regard from the end of the bench also.
Looking at the team defensively in the paint, we all know the capabilities of Anthony Davis, but Dwight Howard was a solid addition as well. Through the 2017-18 season, when Howard last played regular basketball, he averaged 16.6 points per game, alongside 12.5 rebounds, and 1.6 blocks. If he can get a fraction of his former self back, and become a 10 (points) and 10 (rebounds) player, Laker fans will be happy.
Even though he isn't an addition to the roster, returning guard Rajon Rondo may carry some importance moving forward, much to the dismay of many fans of the purple and gold. He provides a creative factor offensively, in being the primary ball-handler when LeBron James isn't on the court. Also, he has been praised in the NBA circles for being a strong veteran presence in guiding younger players through the professional ranks.
Time will tell with Rondo, he may be finally done in terms of being a effective player. But let's hope he has just a few more miles left in the tank to contribute and push the Lakers to championship honours.
By Kwadwo 'Kojo' Larson (@kwadwo_l)
---
Lakers Fanclub UK are proud affiliate partners of Fanatics UK and the NBA Store Europe. We do possess unique promotional codes for both websites that can offer our readers and followers 10% off site-wide through the following weblinks.
Fanatics UK: http://tinyurl.com/y4vjv32b and enter the promotional code LAKERSUK10 at checkout to receive 10% off. This is not limited to just NBA apparel, but the discount can be used on MLB, NFL, NHL, Football/Soccer gear also!
NBA Store Europe: http://tinyurl.com/y585vud9 and enter the promotional code LAKERSUK10 at checkout. This is not limited to Lakers gear, the discount is available site-wide on any product you wish to purchase!