The Long Night has finally ended, and preseason NBA basketball is once more upon us.
Fans of the Association have been thoroughly riled up by a boisterous free agency period that left the league more competitive than it has been in 15 years. Among the 8 or 9 top-tier teams, the Los Angeles Lakers may be the most intriguing because of the high variance in their potential outcomes.
They could be far and away the best team in the league or they could be a fringe playoff team. Anyone who claims to know which they'll be in advance is lying.
What has been particularly unclear is who the key role players on the team will be. As one of the best 3 and D wings in the league for several years now, Danny Green arrives with a clearly defined role, as do projected end-of-bench players Jared Dudley, Quinn Cook, and Troy Daniels.
There are, however, a number of question marks on this roster and legitimate questions about whether all the necessary boxes for a title winner have been checked. These are the specific things to look out for during the preseason and early regular season as indicators of where the team is going.
Will Perimeter Players Hit Open 3s?
Anyone who was dragged by sheer loyalty into witnessing the travesty of spacing that was the Lakers' offense last season will understand why this is the first question on this list. Defenses dared Rajon Rondo, Lonzo Ball, and Brandon Ingram to shoot from 3 all season long.
As Kyle Kuzma's second year percentage proved to be much lower than his rookie numbers, teams sagged off him as well. The result was very little space created for LeBron to operate in the paint, which is where he is most effective.
Having Anthony Davis, who is arguably the best teammate LeBron James has ever had, will naturally open up the floor. To create the kinds of marginal advantages that make all the difference come playoff time, though, they will need the spacing provided by the secondary shooters stepping up.
Danny Green alone will probably not be enough. Kyle Kuzma, Avery Bradley, Alex Caruso, Kentavious Caldwell-Pope, and even *sigh* Rajon Rondo all need to demonstrate reasonably efficient 3-point shooting across an entire season to force teams to respect them in the postseason.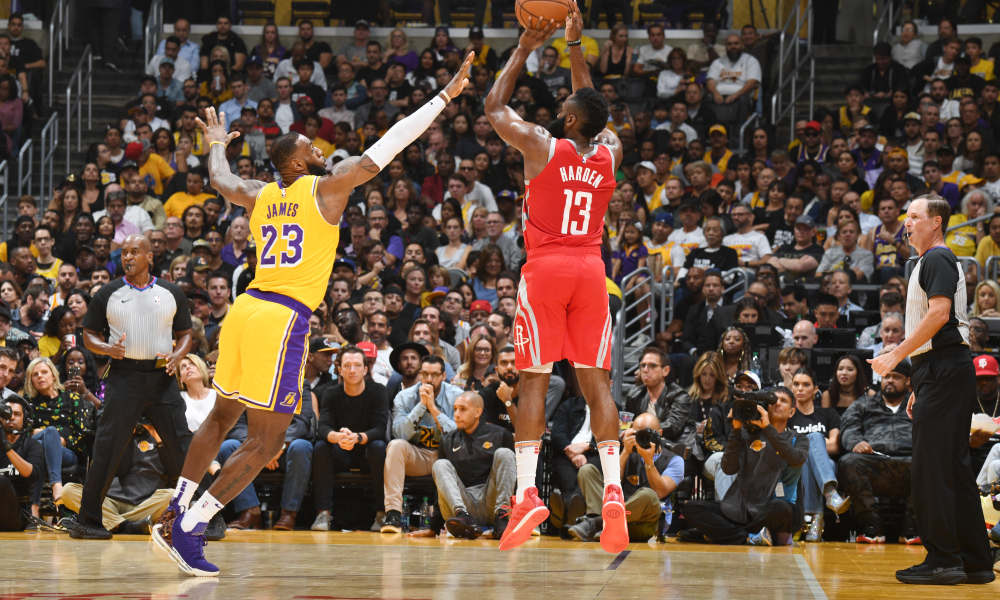 Will the Lakers Be Able to Use Drop Coverage to Guard the Pick and Roll Without Bleeding Points?
Lakers Head Coach Frank Vogel is known for his ingenuity in the use of what is called 'drop coverage' to guard the pick and roll. In this coverage scheme, the big guarding the screener hangs back off the play towards the basket to protect the rim, while the defender guarding the ball follows their player over the screen to contest any pull up 3.
The advantage of this coverage is that it protects the rim and the 3-point line while giving up mid range jumpers, which are the least efficient shot on the floor.
The problem with drop coverage is that there are players at the top of the league (James Harden, Steph Curry, Kyrie Irving, and Damian Lillard leap to mind) who can consistently make open mid range jump-shots, negating the advantage the defense creates. Effective drop coverage requires perimeter defenders capable of maintaining ball pressure and fighting through screens, as well as bigs with the length and agility to defend the rim while contesting the mid range pull-up against elite shooters.
Vogel had both of those ingredients with his best teams at the Indiana Pacers 6-8 years ago and his teams produced the league's best defense for 2 years running. For the Lakers, this translates to Bradley, KCP, and Caruso playing on ball defense at the point of attack and fighting through screens to funnel the ball-handler into the shot-blocking bigs near the paint. If they are not able to do so, quick guards with reliable jump-shots will cause them problems on the defensive end.
Shooters with length, like Kawhi Leonard or Kevin Durant, create even more problems by securing extra space for the shot. Shot-blockers may be able to close out in time to contest a mid range jump shot, but their movement leaves a potential opening for an offensive rebound off of a missed shot and an easy put back.
If the Lakers defenders need to switch most screens it is doubtful that JaVale McGee or Dwight Howard will be able to play significant minutes because they can be exploited by smaller, quicker players on the switch.
Does Team USA Kuz Translate to the NBA?
Before the stress reaction that prematurely ended his stint with Team USA this summer, Kyle Kuzma showed off his tidied-up jumper and improved defense. As the great guys at Laker Film Room and Basketball Index have pointed out, Kuzma showed some promise as a wing defender last year as well as improving his scoring efficiency… except from beyond the 3-point arc.
Given that the 2 best players on the Lakers thrive around the paint with maximum 3-point spacing, Kuzma's shooting efficiency will determine his ultimate role on the Lakers this season. Playing as he did last year on offense, scoring efficiently off-ball but shooting the 3 poorly at a high volume, could still result in him being an effective first scorer off the bench when James or Davis need a rest.
A Kuzma like his first year, who shoots the 3 well but defends the perimeter poorly, finds his minutes limited by the need to play him at the 4. In either case, it becomes more difficult to play him at the end of games when both spacing and perimeter defense are critical.
The version of this team that wins a championship, barring a major acquisition, requires a Kyle Kuzma who can both hit the 3 reliably and defend the perimeter without giving up free points. His brief Team USA run was so tantalizing because he seemed to be excelling at exactly those two things. Given his existing bag of moves in the paint and his skill cutting off the ball, if Kuzma comes back from his injury shooting and defending he will have proven himself right about being the Lakers' 3rd All-Star.
Can the Team and the Staff Avoid Drama and Stay Focused?
There have been a lot of media narratives about this Laker team this summer. Frank Vogel in particular is under a great deal of pressure to perform early, because Jason Kidd and Lionel Hollins are going to start looking like sharks to him if the team stumbles out of the gate. While the Lakers have a very favorable early schedule, teams like this one with a lot of new pieces and championship aspirations tend to start slowly.
This is what happened with James' super-teams with the Miami Heat and the Cleveland Cavaliers, and this team even lacks the obvious 3rd star both of those previous teams enjoyed.
With the expectations that have been built this offseason, how will the coaching staff and front office maintain their focus when the inevitable adverse run presents itself? Do the assistants support Frank Vogel if questions about him arise in the media, or does backbiting become the new story? Can Rob Pelinka and Jeanie Buss resist making hasty, desperate moves that are disruptive to team chemistry?
The front office has made some very good decisions and also some very bad ones this off-season, with no obvious indication of their disposition moving forward. How they choose to confront the problems that emerge for this team will be telling about their discipline.
It should be an entertaining season, that's for sure!
All told, even the infamous 2013 Lakers provided more juicy story-lines to follow before a season even began, although the gulf between the potential of that team and its performance is a cautionary tale about how thin the margins are at the highest level of basketball. These Lakers need to do a couple of simple things effectively, consistently, and with as little fuss as possible while a media cyclone rages around them.
It is not an easy thing to do. Finding out whether they can pull it off, and watching the sure-to-be electrifying combination of LeBron James and Antony Davis, is going to make this the most fun Lakers season to watch in a decade.
By Phil Sizemore (@phsizemore)
---
Lakers Fanclub UK are proud affiliate partners of Fanatics UK and the NBA Store Europe. We do possess unique promotional codes for both websites that can offer our readers and followers 10% off site-wide through the following weblinks.
Fanatics UK: http://tinyurl.com/y4vjv32b and enter the promotional code LAKERSUK10 at checkout to receive 10% off. This is not limited to just NBA apparel, but the discount can be used on MLB, NFL, NHL, Football/Soccer gear also!
NBA Store Europe: http://tinyurl.com/y585vud9 and enter the promotional code LAKERSUK10 at checkout. This is not limited to Lakers gear, the discount is available site-wide on any product you wish to purchase!