We're deep into the NBA off-season now, the majority of free-agents have been snapped up, rosters have taken shape, and training camp is fast-approaching (September 28). LeBron James is due to host a mini camp in Las Vegas, in which it is expected that all players will attend, between September 22-26.
The Los Angeles Lakers start their pre-season schedule on October 5, against the Golden State Warriors, in San Francisco. Before, kick starting the regular season in a mouthwatering encounter against cross-city rivals, the Los Angeles Clippers, on October 22.
To date, the Lakers have filled 14 of their 15 confirmed roster spots for the upcoming campaign, and have invited a further 4 players to try out for the vacancy.
With the 2 two-way contracts being occupied, the purple and gold are just short of the full 20 limit for training camp players, with 19. It is no secret that the Lakers are holding out to see what will happen with Andre Iguodala in the buy-out market, but as it stands, training camp will be extremely competitive with a handful of hopefuls looking to catch the attention of the Lakers' front office and coaching staff.
LeBron James, Kyle Kuzma, Kentavious Caldwell-Pope, Rajon Rondo, JaVale McGee, and Alex Caruso will be returning to the Lakers for the 2019-20 NBA season. The summer additions of Anthony Davis, Danny Green, Avery Bradley, Quinn Cook, Troy Daniels, Jared Dudley, Talen Horton-Tucker, and the now-injured DeMarcus Cousins, will be on-board with fully guaranteed contracts too.
In addition, Zach Norvell Jr and Kostas Antetokounmpo sit in the two-way spots, as both are set to split their time between the NBA and the G-League.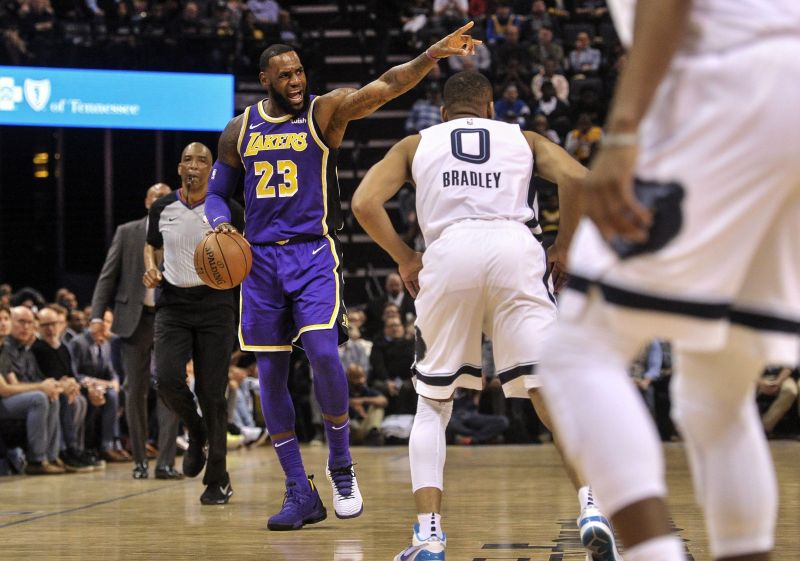 This leaves 3 players who the Lakers have assigned to 'Exhibit 10' deals, in Devontae Cacok, Jordan Caroline, and Demetrius Jackson. Center Dwight Howard will also try out for the final roster spot on a non-guaranteed veteran minimum deal.
With an 'Exhibit 10' deal, it is essentially a one-year non-guaranteed deal worth the minimum NBA salary, which according to Basketball Insiders, is $582,180.
As Hoops Rumours have described, such deal can include an optional bonus ranging from $5,000 to $50,000. This bonus acts as an incentive for players to stay with their team's G-League affiliate team, in this case, the South Bay Lakers. 60 days must have passed before the player receives their bonus.
So, the outcomes that could occur for Cacok, Caroline, and Jackson are: 1) They make the Lakers' NBA roster ahead of Dwight Howard, pocketing the $582,180 minimum salary in the process, or.. 2) They fail to make the NBA roster but impress enough to earn a contract with the South Bay Lakers, of the G-League, thus making them eligible for their $5,000-$50,000 bonus. The latter seems the most likely scenario.
Exhibit 10 deals can be converted into two-way contracts also, in which the player is entitled to the bonus, even if the team waive the player at a later date. However, this scenario cannot unfold as the Lakers have already used their 2 two-way roster spots.
We know what to expect with LeBron James, Anthony Davis, and Kyle Kuzma. They certainly don't need any introductions. With the other fully guaranteed players, we have already put together an article looking at each player. You can find this here.
With Cacok, Caroline, and Jackson, they come in as relatively unknown players to most. Therefore, we have provided some background on each of them, as they prepare to fight it out for a shot at the last roster spot, or for an opportunity in the G-League for the South Bay Lakers.
Devontae Cacok
Devontae Cacok is a 22-year-old power forward/center from Chicago, Illinois. He grew up in Riverdale, Georgia and represented Alpharetta during his high school years. As a senior he averaged 22 points and 12 rebounds, whilst leading the school to a regional title.
At the collegiate level, Cacok committed to UNC Wilmington, where he played between 2015-2019. After a quiet freshman campaign, he averaged 12.2 points and 9.8 rebounds per game as a sophomore, on an incredible 80% shooting. He led the nation in field goal percentage, setting a record in the process, and built a solid reputation defensively.
Throughout his 4 years at UNC Wilmington, Cacok appeared in 129 games and averaged 12.3 points and 9.8 rebounds, on 64% shooting. This earned him 2 All-CAA First Team, and 3 CAA All-Defensive Team selections.
After going undrafted in the 2019 NBA Draft, Cacok represented the Lakers at Summer League, where in Vegas (5 games, 23 mpg) he averaged 11.8 points, 9 rebounds, 1.2 assists, and 2 steals per game.
Primarily listed as a power forward, Cacok can be effective at the center position, despite standing at 6-foot-7. He does the majority of his work offensively in the paint, but is capable of knocking down the odd mid-range jumper. In terms of shooting, his game doesn't move beyond the arc. In addition, he is a solid rebounder.
There are question marks against Cacok's defensive consistency and there are doubts whether his size and game can translate in the professional ranks. But he undoubtedly plays hard and holds bags of energy.
Jordan Caroline
The Lakers have also invited 23-year-old Jordan Caroline to training camp on an Exhibit 10 deal. Caroline is a 6-foot-7 small forward from Champign, Illinois. He played high school basketball for Champaign Central High School before transferring to Montverde Academy, where he played alongside Ben Simmons and D'Angelo Russell. Montverde won national titles during his time there in 2013 and 2014.
From here, Caroline committed to Southern Illinois University, where he averaged 9.2 points and 6.2 rebounds. After the season, he transferred to the University of Nevada, where he flourished between 2016-19. Throughout his time in Nevada (105 games), Caroline averaged 16.5 points, 9.1 rebounds, and 2 assists, with a 46% shooting rate from the field.
Strong performances earned him 2 All-Mountain West First Team and 1 2018-19 MWC All-Defensive Team selections. In addition, he left Nevada as their all-time leader in career rebounds. He also led the team to 2 appearances at the NCAA Tournament in 2018 (Sweet Sixteen) and 2019 (1st Round).
After going undrafted in the 2019 NBA Draft, Caroline represented the purple and gold at Summer League. In 4 Vegas games (20 mpg), Caroline averaged 16 points, 3.5 rebounds, and 1.3 assists, on 50% shooting.
Caroline is a versatile scorer that can get to the rim, initiate contact, and shoot from range. He can convert both off the dribble and as well as being a spot-up shooter. On his day he can be lights out. Also, he is a well-rounded athlete who can rebound and dish out an assist.
He can be disengaged on the defensive end, and has a tendency to play wildly from time-to-time. As he matures the game will slow down for him which should alleviate his raw playing style.
Jordan Caroline was touted as being a potential 2nd round pick in the 2019 NBA Draft but fell undrafted. He possesses upside, which the Lakers are clearly aware of. He could fill the void of a wing presence that the team needs, that or he signs for the South Bay Lakers, where he should really tear the G-League up.
Demetrius Jackson
The final Summer League player that the Lakers invited to training game on an Exhibit 10 deal is 24-year-old, Demetrius Jackson. Standing at 6-foot-1, Jackson plays predominantly at the point guard position. Born in South Bend, Indiana, Jackson attended Marian High School. As a senior he averaged 25.9 points, 5.7 rebounds, 2.9 assists, and 2.6 steals per game.
He finished his high-school career as the all-time leading scorer in St Joseph County, with 1,934 points. Jackson's performances earned him selection to the 2013 McDonald's All-American Boys Game.
Jackson then committed to the University of Notre Dame, where he played for 3 seasons. He was part of the teams that got the NCAA Tournament Elite Eight for 2 consecutive years in 2015 and 2016, losing to Kentucky and North Carolina, respectively.
As a junior at Notre Dame, Jackson averaged 15.8 points, 3.5 rebounds, 4.7 assists, and 1.2 steals, on 45% shooting, through 35 contests. This earned him a 2nd round selection in the 2016 NBA Draft, by the Boston Celtics.
In the 3 years since, he has bounced around the NBA with the Houston Rockets and Philadelphia 76ers, but has spent the majority of his time in the G-League. In fact, he has only featured in 26 NBA games since joining the professional ranks, averaging 1.8 points in 5.2 minutes.
For the Delaware Blue Coats in the G-League last season, Jackson posted impressive averages of 19.4 points, 4.5 rebounds, 7.4 assists, and 1.1 steals, in 8 games.
Demetrius Jackson does lack height at the point guard position but does possess a 6-foot-5 wingspan and impressive athleticism. His quickness allows him to blow past defenders to the rim where he is more than capable of finishing with contact, alternatively he can feed an assist. From time-to-time, Jackson pulls off clutch, highlight reel plays.
However, he isn't a consistent outside threat which puts a marker against his name, especially in the modern NBA. Defensively he tends to wonder at times too, and struggles to fight through screens. He does possess a strong frame, so the potential is there for him to become an average defender.
Jackson is an impressive well-rounded prospect on the offensive end though, which is probably the reasoning for the Lakers giving him a closer look.
By Matt Evans (@mattyyyevans)
---
Lakers Fanclub UK are proud affiliate partners of Fanatics UK and the NBA Store Europe. We do possess unique promotional codes for both websites that can offer our readers and followers 10% off site-wide through the following weblinks.
Fanatics UK: http://tinyurl.com/y4vjv32b and enter the promotional code LAKERSUK10 at checkout to receive 10% off. This is not limited to just NBA apparel, but the discount can be used on MLB, NFL, NHL, Football/Soccer gear also!
NBA Store Europe: http://tinyurl.com/y585vud9 and enter the promotional code LAKERSUK10 at checkout. This is not limited to Lakers gear, the discount is available site-wide on any product you wish to purchase!