On August 23, after a week or so of speculation, Shams Charania of The Athletic reported that Dwight Howard and the Memphis Grizzlies were finalising a buyout, with Howard planning a return to the Los Angeles Lakers.
On August 26, it was suggested that the 33-year-old center, who stands at 6-foot-11, had cleared waivers and would begin his second tenure with the purple and gold.
The first tenure being in the infamous 2012-13 campaign. Long story short, the Lakers traded for Howard, who was an All-Star at the time, the season went terribly, Steve Nash and Kobe Bryant suffered serious injuries, and a first round blowout occurred in the playoffs at the hands of the San Antonio Spurs.
Injuries weren't all to blame during Dwight Howard's unsuccessful first spell however, which is often referred to as the "Dwightmare" season. The team didn't appear to mesh and Howard's attitude lacked, severely. It was clear that he wanted to take lead of the team that was in Bryant's hands at the time.
After getting ejecting in his final game, Howard snubbed the Lakers' maximum contract offer and joined the Houston Rockets. This left a sour taste in the mouths of fans of the purple and gold, and rightly so.
Well, against the odds, the man once nicknamed "Superman" has returned to Los Angeles. In addition, it appears that Rob Pelinka and Co. have protected themselves in case this all goes south.
Howard's contract will be a non-guaranteed deal. ESPN's front office insider, Bobby Marks, has stated that the contract is often termed a "summer contract" due to its $0 salary protection. Marks goes onto reveal that Howard will earn $14,490 for every day that he is on the roster, starting from October 21.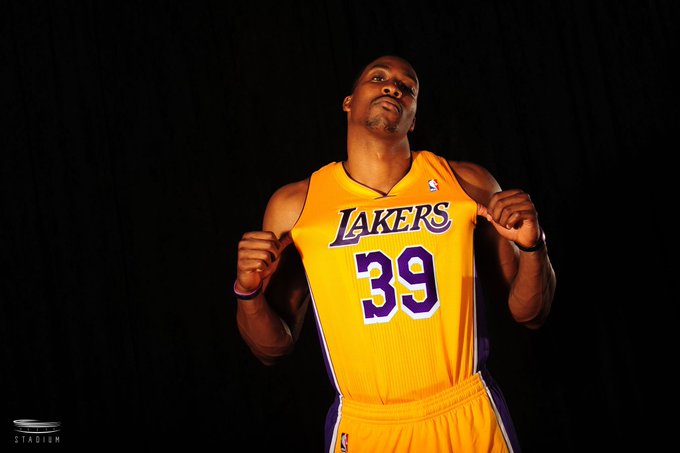 If Howard's attitude isn't up to expectation, or if he suffers an injury, he will get cut from the roster, it's as simple as that. This is a solid move by the Lakers' front office, who are due some credit to the way they've conducted their off-season business so far.
On the attitude front, Howard has reportedly impressed the Lakers' hierarchy and star players, LeBron James and Anthony Davis. By the sounds of it, he may have turned over a new leaf and will accept a lesser role to be part of a team that is expected to push for championship honours.
He wanted redemption in L.A., too, after how his lone season alongside Kobe Bryant went. He wanted to be part of a championship team, and he was willing to do whatever was asked of him, no matter the role, and be held accountable at all times, Howard told them.


The Lakers had gathered momentum in their own research into Howard over the past week, but needed the roster to be fully on board. Howard won over the players in the locker room, including James and Davis, for his approach and mindset in the visit, sources said.

Shams Charania, 23/08/19
Howard's career at this point can go in one direction or another. He can redeem himself in Los Angeles and be part of a successful team, or his career could rapidly deteriorate where he would surely have to consider retirement.
Luckily for the Lakers, they have done their due diligence and signed him to a deal that protects the franchise for the upcoming campaign, if things go pear shaped.
But there is no doubt that Laker fans want this to work, the past is all water under the bridge, especially if a championship is at stake. Howard has reportedly lost 25 pounds and is ready to maintain his health to buy into what the Lakers are building.
Fingers crossed that all works out and Dwight Howard can be a success in his second tenure with the purple and gold. If so, it would make a brilliant documentary one day!
By Matt Evans (@mattyyyevans)