Kobe Bryant is a name synonymous with the Los Angeles Lakers, and professional basketball as a whole. Throughout his 20 year career Bryant had various accolades, numerous rivalries, and many historic performances. From the Championship 3-peat between 2000-2002, the 9 straight games of 40+ points in 2004, the 81-points against the Raptors in 2006, the back-to-back titles of 2009 and 2010, the 60-point performance in his final game, the list goes on and on.
Throughout his career there were many fantastic duels between Bryant and his NBA counterparts in the regular season, however there were some playoff match-ups that unfortunately never happened. To this day, many dispute what would have occurred if Bryant faced off against certain NBA legends in meaningful playoff scenarios.
Michael Jordan
Throughout his career, Kobe Bryant was constantly compared to Michael Jordan, and for good reason. Bryant had modelled his game around Jordan, with like-for-like moves, at times looking like a mirror image of MJ.
Jordan and Bryant are widely regarded as the top-2 shooting guards in NBA history. Jordan acquired 6 NBA Championships, with 6 finals MVP awards, and 5 league MVPs, through his stellar career. As for Bryant, he also had a prolific career, garnering 5 NBA Championships, 2 Finals MVPs, and a single league MVP trophy.
Although Bryant and Jordan had a few duels, neither player was in their prime, as Kobe was on the younger end of the spectrum and Jordan on the older side. Both players had great respect for one another, with Bryant quoted saying "he was extremely open to having a mentor relationship and giving me a great amount of advice and an amazing amount of detail, strategies, workout regimen and things like that".
An NBA Finals match-up between the two in their prime would have been one of the most interesting dynamics to ever take part in sports, full stop. A student overcoming his master story would have set the stage for an incredible duel of basketball prowess.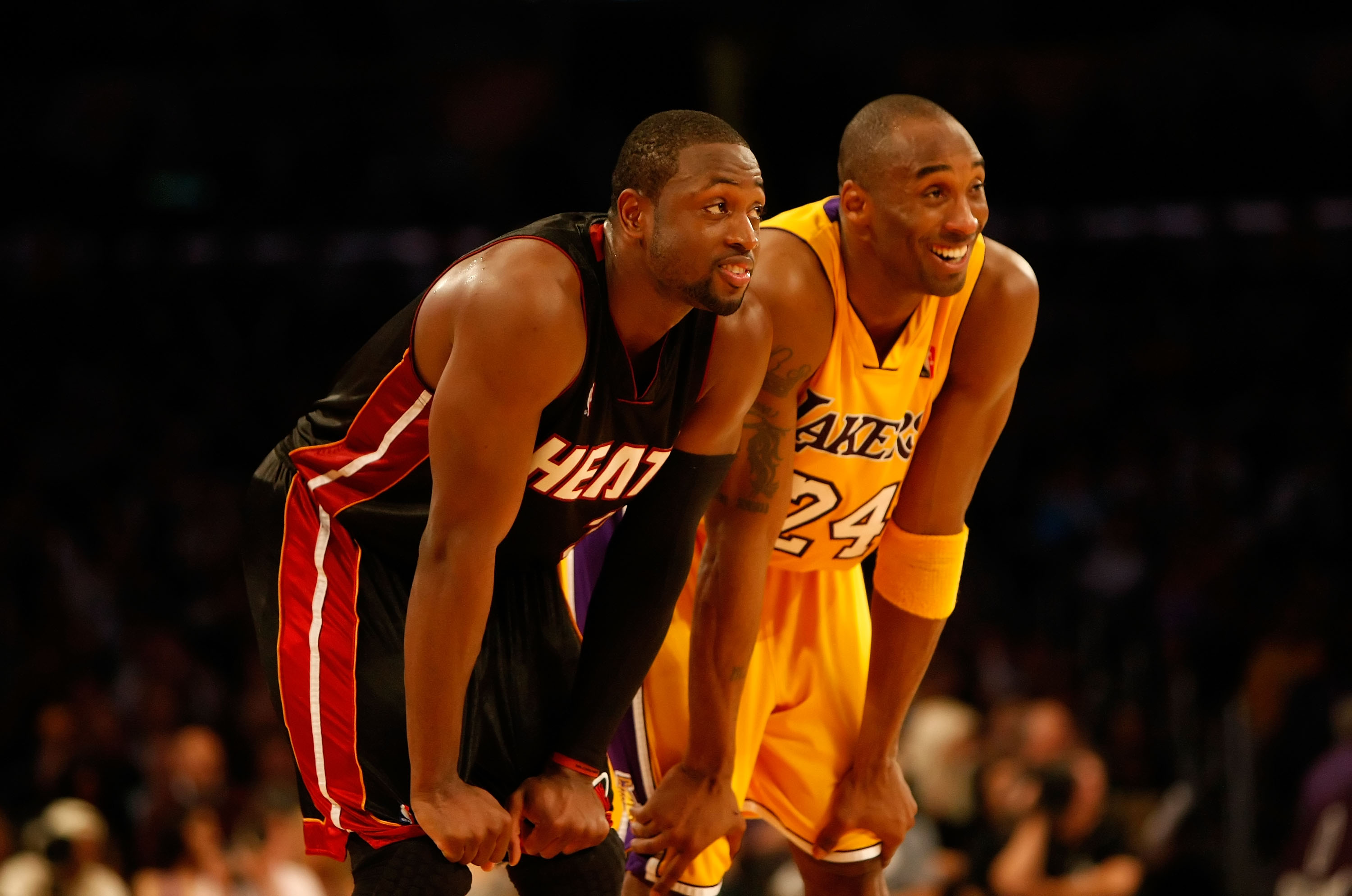 Dwyane Wade
Similar to how Bryant and Jordan had a "student idolising his teacher" relationship, Dwyane Wade also had a similar connection with The Black Mamba. Wade envied Bryant, and constantly tried to out-duel him on a nightly basis. However, unlike Michael Jordan, a playoff match-up between Bryant and Wade was one that was very possible.
Both players were playing in their primes at similar times, with each being regarded as top-10 players in the NBA. The 2010-11 season looked to possess the ideal framework for a match-up, but it was not meant to be. The Lakers were looking to 3-peat for the second time in a decade, and the Miami Heat had just acquired LeBron James and Chris Bosh, to form a big 3.
Bryant and the Lakers were swept in the Western Conference Semi-Finals by the Dallas Mavericks, who beat Wade, James, Bosh, and the Heat in the NBA Finals, to claim their first ever title.
Dwyane Wade and Kobe Bryant were both undisputed stars, and a duel between the two, mixed with the rivalry that had been developed throughout the 2000s could have come to a settlement.
Luckily we experienced many regular season battles between the two legends, but an NBA Finals series would have been a treat.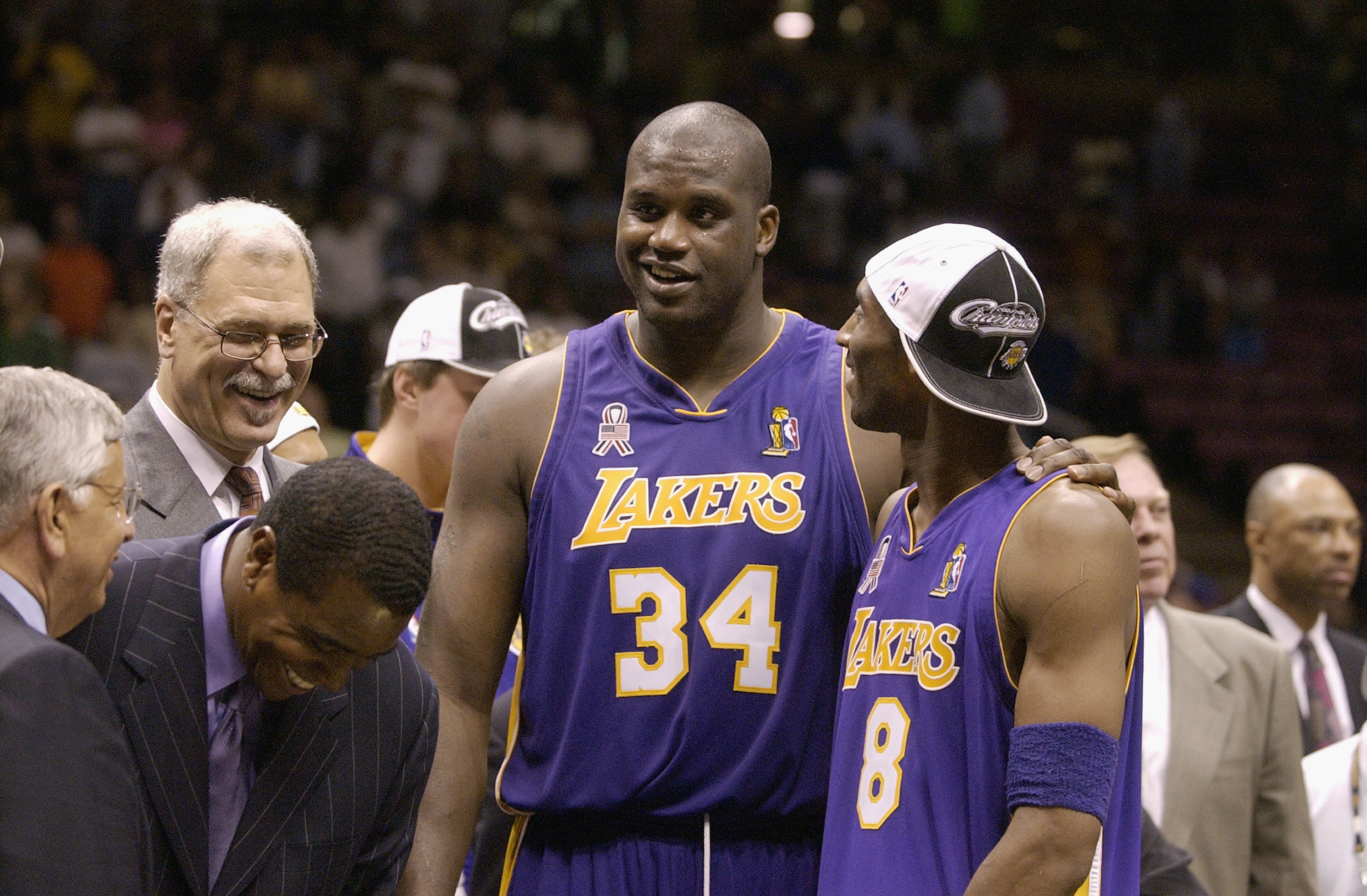 Shaquille O'Neal
The feud between Kobe Bryant and Shaquille O'Neal is one of the most proclaimed rivalries the NBA has ever seen. From being the core pieces of one of the most unstoppable dynasties ever (Lakers, 2000-02), to becoming drama infested rivals who forced a separation. Bryant and O'Neal's relationship was as confusing as they got.
The beef between the former teammates had quelled to a point where Bryant was attempting to solidify himself as an individual star who could compete without O'Neal. While O'Neal was trying to prove to the world that he was still a fierce competitor that could dominate and bulldoze anyone that stood in his way.
The 2004-2005 season was the first time that both had been on different teams since 1996. During the season, Bryant averaged 25 points, 6 rebounds, and 6 assists, compared to O'Neal who put up 22 points, 10 rebounds, and 2.3 blocks. A small glimpse of the potential finals match-up came on Christmas Day 2004, where the Lakers and Heat faced off. Bryant (42 points) missed an overtime buzzer-beater and O'Neal (24 points) and the Heat walked away with the win.
The game was competitive and a joy to watch, but in regards to a finals match-up, that never occurred. O'Neal had made it to the Eastern Conference Finals, and Bryant failed to lead his team to the playoffs accumulating a record of 34-48. The following year, O'Neal got his ring without Bryant, but the Lakers were knocked out in the 1st round to the Phoenix Suns, another potential finals match-up passed by.
In O'Neal's later years, he faced injury problems, and Bryant went on to claim 2 titles without his presence. A finals match up between these former teammates would have possessed an incredible amount of passion and intensity that would have gone down as one of the best finals series in history, no doubt.
Tracy McGrady
Kobe Bryant stated that Tracy McGrady was the toughest opponent he had ever faced. Both McGrady and Bryant had come out of high school a year apart and were looked at as two of the most dangerous offensive weapons in the NBA at the time.
Both were similar in playing style, they were athletic, and possessed the ability to score from pretty much anywhere on the court. Both held their own in defense also. In their 21 regular season match-ups, they put up electrifying offensive games, that really were a joy to watch. Over the course of his career Bryant did get the upper hand averaging 25 points, to McGrady's 19.6.
Looking back, a perfect playoff match-up would have been in the 2002-03 season. McGrady averaged a league-high 32.1 points, adding 6.5 rebounds, and 5.5 assists. Bryant also had an impressive season averaging 30 points, 6 assists, and 7 rebounds. However, neither player was able to make it to the NBA Finals, losing in the 2nd and 1st rounds, respectively. A 7 game playoff series between these two in their prime would have been a delight.
LeBron James
There is no doubt that Kobe Bryant and LeBron James were two of the greatest players to play during the 2000-2010 era. Constant debates ensued regarding who was the better player. Playing in opposite conferences, a finals meeting between the two appeared very likely. Unfortunately, the stars never quite aligned for it to happen.
Seeing a young LeBron filled with athleticism and explosiveness, against a smarter, more tactical Bryant would have been delightful on the eye. The 2008-09 season had the perfect template set in place as well. Bryant averaged 27 points, 5 rebounds, and 5 assists over the course of the season, leading the Lakers to a 65-17 record. LeBron also had a stellar season, averaging 28 points, 7 rebounds, and 7 assists, leading the Cleveland Cavaliers to 66-16 record, whilst winning his first regular season MVP award.
The stage was set for an epic finals match-up, with both teams reaching the Conference Finals. Although Kobe Bryant took his team to the finals, eventually winning the title, LeBron James and the Cavaliers were eliminated by the Orlando Magic.
Had LeBron been able to overcome the Magic, the NBA could have witnessed one of the most exciting finals series of all time.
By Srikar Devireddy (@srikardr999)