The Los Angeles Lakers rocked the NBA world on June 15, when it was announced that they had struck a deal with the New Orleans Pelicans to acquire 26-year-old superstar, Anthony Davis. The move provides much-needed star talent alongside LeBron James. Although, the attention does shift towards free agency now, with the question being; do the Lakers push for a third star, or look to build a deep roster?
There are concerns around the exact amount of salary that the franchise will have available to spend, as we have outlined previously. But either way, a minimum of $23.6 million will be accessible. There are methods where that number can be taken up to the maximum salary slot of $32.7 million, but this depends on a variety of factors. The timing of the Davis deal being announced, his trade bonus being waived, Moritz Wagner and Isaac Bonga potentially being moved on, and so on.
Fans around the world have been sharing a wide-range of opinions and scenarios that could unfold this off-season. Some which include acquiring another star in Kawhi Leonard, Kyrie Irving, Jimmy Butler, and Kemba Walker. Some veer towards the idea of building a deep roster, through the likes of J.J. Reddick, Danny Green, Seth Curry, Patrick Beverley, and Brook Lopez.
As always with our prediction articles, we have gathered four fans to discuss their views on the Anthony Davis trade, and how they think the off-season is going to unfold.
Q: First of all, the Lakers recently obtained superstar Anthony Davis in a huge trade with the New Orleans Pelicans. What are your views on the acquisition?
Frank: "Based on what we "know", I really believe that this was a fair trade for both sides. Laker fans, of course, know the potential upside of Ingram and Ball. Hart was also a solid contributor. However, we are also very aware of their injury history. After 2020, New Orleans essentially owns the Lakers' draft picks until potentially 2025. On the other hand, the Lakers received a future hall of famer in Davis that is just entering his prime at 26 years of age. Rob Pelinka could possibly have been a bit more stingy and reluctant in terms of negotiating assets and the timing of the trade, but the deal needed to be done and he did it."
Jonathan: "I'm absolutely thrilled about the trade, while we did give up a lot of assets (I would have loved to have kept Lonzo), it was essential that we made the trade. When you have one of the best players in the world in LeBron James, you need to maximise your chances of winning. Bringing Anthony Davis into the fold does that and gives the Lakers a legit chance of winning a title next season."
Jamie: "It was fascinating watching the AD trade pan out, but I was just glad it got done in the end without us looking silly like we did back at the trade deadline. We got a top 5-player in exchange for some young guys who could be great but at the moment only hold potential. If we didn't have LeBron then we would have kept the young guys, but with LeBron here we need to win now."
Amandeep: "AD was a must, the trade has put us on a championship level. It's a game-changer!"
Q: Davis' contract does expire at the end of next season, does that worry you or are you confident of him committing long-term?
Frank: "In light of Dwight Howard's departure after one season, the prospect of Davis leaving should scare me, but it doesn't. He put the Lakers on a list of two teams that he would be willing to be traded to, so it would seem odd if he hit the ejection button after just one season. Also, while I loath to give the Lakers' front office the benefit of any doubt, I can't help but think they were given certain assurances prior to pulling the trigger about Davis' future prospects. On the other hand, Howard never wanted to be a Laker and Kobe was not exactly rolling out the welcome wagon for him, so Dwight leaving the Lakers was not shocking."
Jonathan: "I'm not worried about it at all, a lot of people can look at the Dwight Howard trade and see when trading for a superstar goes wrong. But Dwight made it clear that he wanted to be a Net, and not a Laker at that time. With Davis, he and Klutch made it very clear that Davis wants to be a Laker long term. I guarantee you that Rob Pelinka would not have given over any assets if he believed that Davis would walk in 12 months time."
Jamie: "I'm not worried about AD staying long-term. After all the noise that he and Klutch Sports have made getting him to LA, it would take something spectacularly bad for him to consider leaving us at end of next season."
Amandeep: "I'm fully expecting him to re-sign on a long-term max deal, I feel the Lakers are his no.1 choice and why shouldn't he? He's getting paid the max and is paired with the best player on the planet, at the most prestigious franchise, in the most glamorous city!"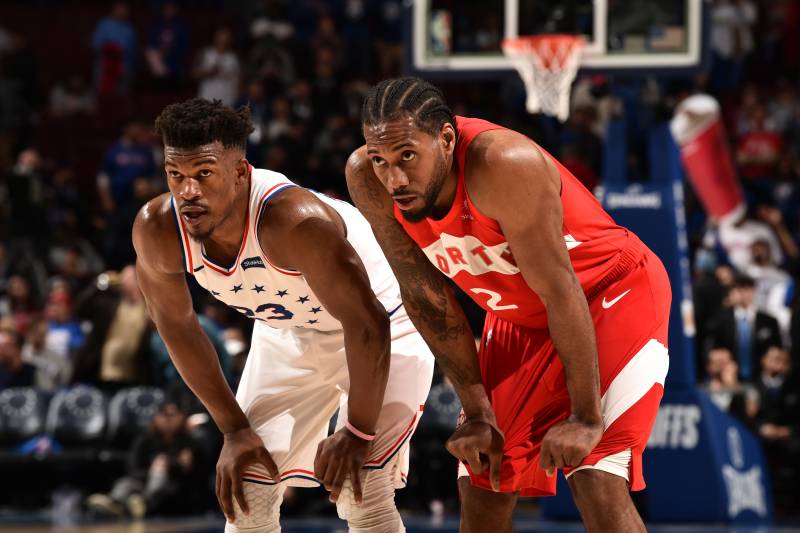 Q: As a result of the trade, the Lakers' available salary is unknown and is dependent on the timing of an official announcement. Would you prefer to push to acquire a third star in free agency, or look to add depth to the roster?
Frank: "I would push for a third max player. While in theory it makes sense to try and build a more balanced roster with multiple good players rather than one, or three, great ones, based on several factors, the multiple good player route doesn't work very well in practice this year. Many teams will have cap space in which to spend money to acquire free agents, which will mean more competition for the same players. To me, the choice is obvious: create the cap space, if the Lakers can, and go for the max star. But, if the Lakers strike out, getting multiple good players to go around Davis and James is not a bad consolation prize."
Jonathan: "It really depends on the superstar. If Kawhi Leonard is available and wants to be a Laker, then you 100% go for him. There are players like Kyrie Irving, Jimmy Butler, and Kemba Walker, who could be in the conversation for the max slot. But I am of the opinion that with that the Lakers could bring in three players that would add a lot more depth to the roster than just adding a team full of veteran minimum guys."
Jamie: "I'd be happy either way to be honest. Personally I would go all out for Kawhi and if we can't land him, I would split the money."
Amandeep: "The only max guys I would go for are Kawhi or Kyrie. If we cannot get them I would rather break up the remaining cap space and buy great role-players rather than purchasing a B+ player that wouldn't be a superstar. Like we saw in Toronto, depth is key for success!"
Q: A host of stars are up for grabs this summer, as are a wide range of useful role players. Obviously, the answer to this question will depend on your last, but who would be your top-3 in terms of who you want the Lakers to prioritise signing?
Frank: "My first choice is Kawhi Leonard for sure. He is arguably the best player in the game and can dominate both offensively and defensively. If Leonard is not an option, Kyrie Irving would be my second choice as the Lakers currently have no back court signed at all. Irving has already been proven to be a great fit next to LeBron. With his ability to create shots and space the floor, coupled with Davis and James, this would be an unstoppable combination on the offensive end. For similar reasons, Kemba Walker would be my third choice."
Jonathan: "If I was Rob Pelinka I would prioritise Kawhi Leonard above all else. You only need to look at his finals performances to understand the calibre of player he is. Imagine having Lebron, AD and Kawhi on one team. It would be like the scene in Avengers: End Game when Iron Man, Captain America and Thor joined together to fight Thanos, it would be beyond epic."
Jamie: "I don't mind Butler or Kemba, but they aren't in same league as Kawhi. If we don't land Kawhi, who would be my top target, I think the money would be better spend elsewhere on players in the $10 million bracket."
Amandeep: "1) Kawhi, 2) Kyrie, 3) Klay, even when he's injured!"
Q: Let's have a bit of fun with some player predictions. Here's a list of free agents available, where do you think they will end up?
Kevin Durant – Warriors (Frank), Brooklyn (Jonathan, Amandeep), Knicks (Jamie)
Klay Thompson – Warriors (Frank, Jonathan, Jamie, Amandeep)
Kawhi Leonard – Lakers (Frank, Jamie), Clippers (Jonathan, Amandeep)
Kyrie Irving – Nets (Frank, Jonathan, Jamie, Amandeep)
Jimmy Butler – 76ers (Frank, Jonathan, Amandeep), Nets (Jamie)
Kemba Walker – Hornets (Frank, Jonathan, Jamie), Knicks (Amandeep)
DeMarcus Cousins – Lakers (Frank, Jonathan), Warriors (Jamie), Knicks (Amandeep)
Khris Middleton – Bucks (Frank, Jonathan, Jamie, Amandeep)
D'Angelo Russell – Knicks (Frank, Jamie), Suns (Jonathan), Celtics (Amandeep)
Q: Let's say all goes well, whether it be through acquiring a third star or filling the roster deep, what would your expectations be for next season? There has been a lot of talk of the Lakers being the favourites for the 2019/20 NBA Championship.
Frank: "The Lakers should be a viable title contender next year. A large part of the equation will be just how good Pelinka is at filling out the team. With Golden State's injury concerns, Houston's infighting and D'Antoni's history of postseason disappointments, Portland's limited playoff ceiling, and Oklahoma City's proclivity for underachieving in the postseason, the Lakers have a realistic path to the finals. The major roadblocks for them will be a formidable Utah team in light of the recent trade for Mike Conley and a Denver team which is very good and very deep. However, no team in the NBA will have a better combination of stars than LeBron James and Anthony Davis."
Jonathan: "I think now is when the hard part starts for the Lakers, landing Anthony Davis has put the franchise in an excellent position to compete but if they don't put a solid squad together then they're doomed to fail. If the Lakers can add some solid 3-point shooters, good perimeter defenders and provide enough talent around the two stars then they should be considered as the favourites to get out of the West and into the NBA Finals. Could they win it all? They have a real chance, here is hoping everything goes to plan."
Jamie: "Whether we get a third superstar or fill the roster, my expectations are going to be high with two of the top-5 players in the NBA on our team. Players are going to want to come and play with us, even more so if we land Kawhi/Butler/Kemba as well. I expect us to reach the Conference Finals, minimum. Then it could be a showdown with the Warriors depending on how their roster is looking injury-wise. I have to say though, I'm dreaming of another Championship and I think most Laker fans will be doing the same!"
Amandeep: "Regardless of whether we get a max or fill out our roster… we are gonna be the 2020 NBA Champs!"
---
A huge thank you goes to Frank, Jonathan, Jamie, and Amandeep for taking the time to answer our questions. Remember, the 2019 NBA free agency period is fast approaching, beginning on June 30 (11pm, UK time). It's usually a hectic period, but it will be even more so now Anthony Davis has teamed up with LeBron James in Los Angeles.
By Matt Evans (@mattyyyevans)